The Nothing Phone 2 all lit up.


Ron Amadeo

And here it is not lit up, which is what it looks like most of the time.


Ron Amadeo

The front screen is a nice, big 6.7-inch display.


Ron Amadeo

Plus, it's flat.


Ron Amadeo

A look at the metal band around the side.


Ron Amadeo

The bottom USB port.


Ron Amadeo

Just look at all the stuff under that pane of glass.


Ron Amadeo
After spending its first year being limited to Europe, the upstart Android manufacturer Nothing is coming to the US. That means it's possible to buy a Nothing Phone 2 and use it on a GSM carrier, so let's take a quick look at one.
The price starts at $599, which lets it slot into the space that used to be occupied by the now obsolete base-model Pixel 7. At this price, you're getting a device that looks like a flagship on the surface with a big 6.7-inch, 120 Hz display and a last-generation Snapdragon 8 Gen 1. The lack of water resistance is really crippling, though. Even the $349 Pixel 6a has an IP67 rating, so it's submergible, but this phone can only handle light rain. Nothing is the second major company from OnePlus founder Carl Pei, and OnePlus had a very strange relationship with water resistance, too. If the company would just be normal and competitive in this area, its devices would be a lot more desirable. Water resistance is a feature people are used to now and definitely something you would expect at this price.
But there are some good features here. I'm a big fan of the flat front screen, which bucks the pointless, year-long trend of distorted screens that are curved along both edges. Flat screens are hopefully going to be the trend going forward. The metal bands around the sides are also nice if a little iPhone-reminiscent.
On so many phones, the back is a big slab of nothing, and it seems like no thought at all is given to anything other than the camera bump. So I can appreciate the decision to try to do something with this big block of space. What you get on the back here is a bunch of widgets and lights covered with a panel of Gorilla Glass. Just in terms of day-to-day usage, the back is not nice. It doesn't seem to have any kind of oleophobic coating, so it is just a big greasy fingerprint magnet. The actual display glass, with a coating, is much nicer, but you're still touching the back a lot.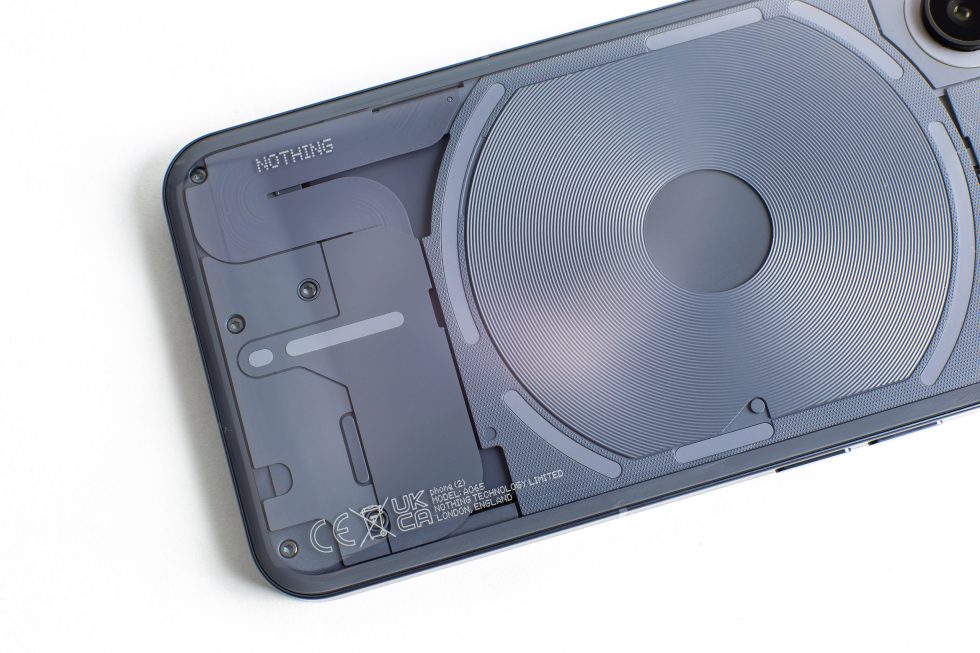 The thing that really irks me about both Nothing phones is that the design and functionality don't really match. The best descriptor I can come up with for the transparent back is "repair cultural appropriation." The phone clearly wants to go for a mechanical, techy look with all sorts of bits and bobs on the back, including visible wires and screw holes, but Nothing can't back up any of those mechanical design cues with real functionality. You can see the screws, but you can't actually touch them because they are embedded behind the glued-down glass panel.
It's one thing if you go for the opaque slab of glass or aluminum look of an iPhone, where the image is that every phone is a highly locked-down appliance, and the inside is full of magic. To look mechanical but not be mechanical is deeply uncool. It makes the Nothing Phone a poser—a phony, a phone for people who believe the hacking scenes on CBS shows. Don't talk the talk if you can't walk the walk.