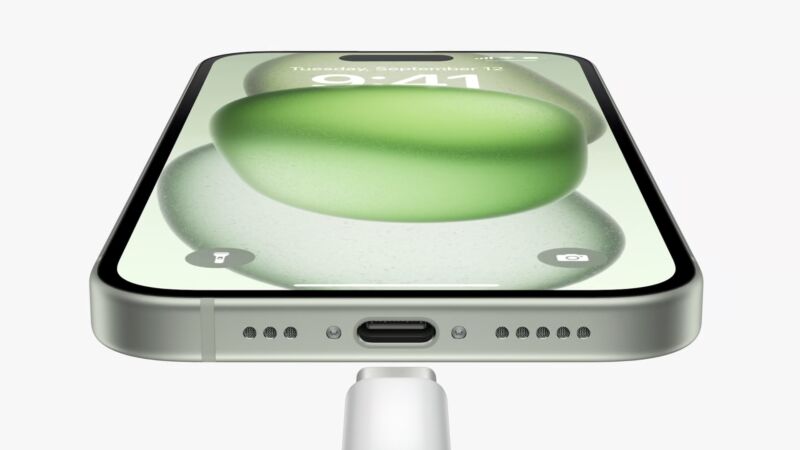 The iPhone 15 lineup's transition from Lightning to USB-C this week wasn't a surprise to anyone who had been paying attention. Apple had been signaling for months that it intended to switch ports, at least in part to conform with new regulations from the EU and elsewhere that required them to do it.
With the USB-C transition essentially taken for granted, the rumor mill focused on Apple's implementation of USB-C, namely that the company would limit data and charging speeds for any accessories not certified through its Made for iPhone (MFI) program. Without certified cables, the rumors said, other USB-C accessories would be limited to basic functionality, like 480Mbps USB 2.0 transfer speeds and slower charging speeds. (Reporting from MacStories indicates that the new iPhones support 20 W fast charging, though faster speeds may be possible with higher-wattage adapters; the iPhones can also provide up to 4.5 W of power to a connected accessory like the USB-C AirPods case.) Officially licensed Lightning cables use a small controller chip to verify authenticity, and cables without them can generate error messages and refuse to work.
But this USB-C rumor was always difficult to believe, partly because Apple has been shipping fully standards-compliant USB-C ports in its Macs and iPads for years now. If anything, I've found Apple's USB-C ports to be less temperamental than those that come in some PCs—I've used HP and Lenovo PCs that either complain about slow charging or reduce performance if you use third-party chargers with them, but my MacBooks have always happily connected to whatever charger I wanted to use them with.
We can confirm that these early reports were incorrect and that iPhones have completely standard USB-C ports that work just fine with all existing USB 3 and USB-PD (Power Delivery) compliant cables, chargers, and accessories, just like Apple's other devices. We'll still need to test the phones to know for sure how they'll behave with different things plugged into them, but all of Apple's official authentication-chip-less USB-C chargers and cables quietly had their compatibility tables updated this week to include all iPhone 15 models. That also includes chargers from third parties like Mophie and Belkin that pre-date the iPhone 15's introduction.
That's not to say that there won't be some kind of licensing program available for iPhone-compatible USB-C accessories. But fears that these cables would be required, and that the iPhone wouldn't work just fine with otherwise standards-compliant USB-C cables and chargers, were unfounded.
Love or hate Apple, the company's nickel-and-dime approach to cables, dongles, and chargers primed people to believe reports like this. In the last few years, Macs have stopped coming with charger extension cables, iPhones have stopped coming with headphones and chargers at all, and new Macs and iPhones required evermore USB-C and Lightning dongles if you wanted to keep using older ports (some of these changes were made under the banner of "sustainability," though Apple is happy to sell you all of these things separately). It didn't strain credulity to suggest that Apple could bring a universal charging port to the iPhone in a way that would still require Apple-licensed cables to get the best results.
Thankfully, the iPhone's USB-C ports will work the same way as the ones in iPads and Macs—which is to say, they'll act like USB-C ports, with all the benefits and pitfalls that entails.