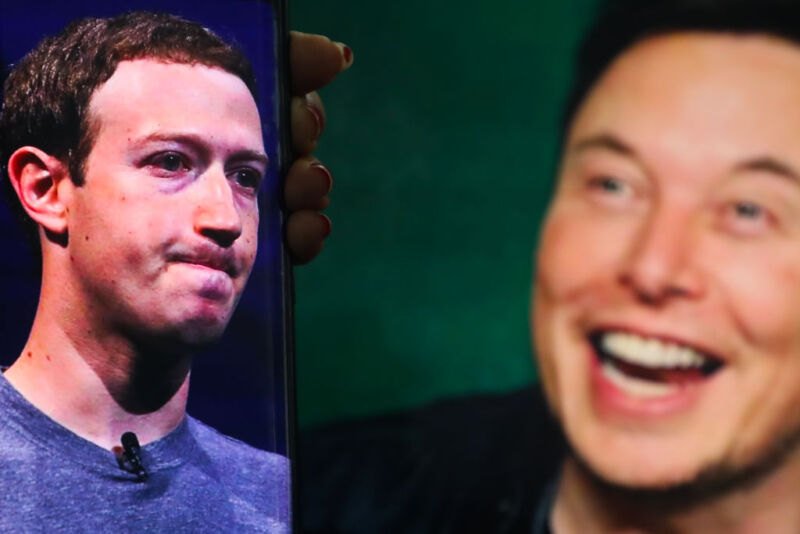 The cage match between Mark Zuckerberg and Elon Musk is over before it even began.
In a series of posts on Threads, Meta CEO Zuckerberg said he was done talking about the fight because Musk never got "serious" about it.
"I think we can all agree Elon isn't serious, and it's time to move on," Zuckerberg said.
The prospect of a cage match between the two tech billionaires was first raised in June when Musk proposed the fight. Zuckerberg—who has been training with mixed-martial arts fighters for two years—replied, "Send me location."
Musk seemed serious about the fight, too, suggesting that the event be livestreamed for charity on their rival social media platforms. Now Zuckerberg claims that Musk kept pushing back the fight, seemingly hoping to keep the banter going online but unwilling to set an actual date.
Instead, Musk only suggested a date for a practice round in the octagon at Zuckerberg's home, Zuckerberg said.
"Elon won't confirm a date, then says he needs surgery, and now asks to do a practice round in my backyard instead," Zuckerberg posted on Threads. "If Elon ever gets serious about a real date and official event, he knows how to reach me."
While the narrative on Meta-owned Threads is that Musk basically has backed out of the fight, over on X, Musk has been cracking jokes that suggest Zuckerberg backed out.
"Zuck is a chicken," Musk posted. In another post, he joked that Zuckerberg "can't eat at Chick-fil-A because that would be cannibalism."
Musk's version of the story is that Zuckerberg canceled the fight because the Meta owner was seemingly too afraid to have a practice round. Now the X owner has joked that he will show up for an unscheduled practice round anyway.
"I'm gonna bang on his door and demand a fight," Musk posted on X.
The X Daily account posted an alleged screenshot of texts between the billionaires on X, showing that Zuckerberg responded to the suggestion of a practice round by telling Musk to train on his own time. In the text, Zuckerberg seemed to suggest that Musk was only interested in hyping the fight and not actually training to fight.
"I don't want to keep hyping something that will never happen, so you should either decide you're going to do this and do it soon, or we should move on," Zuckerberg's text allegedly said.
While it sadly seems that we'll never see the tech billionaires come to blows, Zuckerberg has left the door slightly ajar for the cage match to go down—if Musk ever properly trains.
"I love this sport, and I've been ready to fight since the day Elon challenged me," Zuckerberg posted on Threads. "If he ever agrees on an actual date, you'll hear it from me. Until then, please assume anything he says has not been agreed on."
Neither Meta nor X responded to Ars' request for comment.