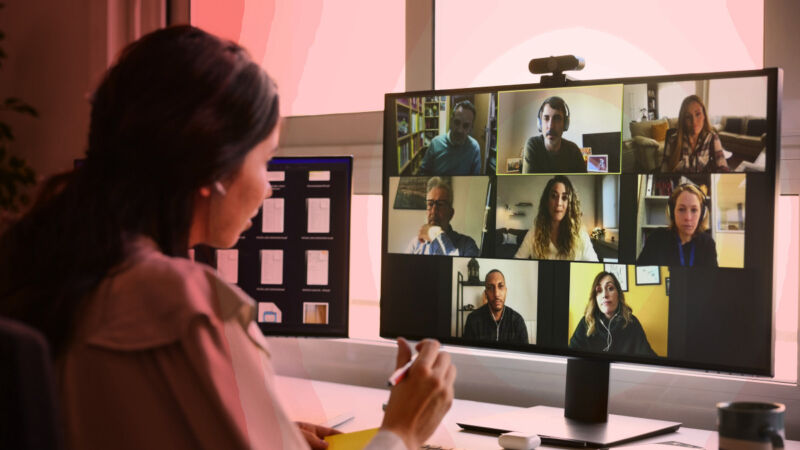 A video-conferencing company might be the last business anyone would expect to force employees to return to the office. That's why a series of shocked reports followed Zoom's announcement that any employees living "within 50 miles of a Zoom office" must now work in the office "at least two days a week."
Starting this month and continuing through September, Zoom's decision to bring employees back to offices could impact many of the company's 7,400 employees, The New York Times reported.
In a statement, a Zoom spokesperson said that the company believes "a structured hybrid approach" is "most effective for Zoom" because it provides an opportunity for workers "to interact with their teams."
Seemingly, Zoom is contradicting its own brand statements, which promise that Zoom facilitates "immersive in-office collaboration right from home." Zoom's homepage describes the service as providing one platform that helps teams become "more connected, more collaborative, more intelligent" and "do more."
Zoom's latest move back to the office follows a previous effort last year that established the hybrid "workstyle" and required that less than 2 percent of its workforce return to the office full time, MarketWatch reported. At that time, Zoom chief financial officer Kelly Steckelberg cited an internal survey showing that about 85 percent of employees who work remotely "want it to stay that way."
Given a choice between fully remote, hybrid, or in-person work styles, approximately half of employees surveyed last year said that they'd choose a hybrid work style, though.
An anonymous Zoom employee told The Times that after the company's most recent announcement, several employees expressed frustration over wasting time commuting, directly complaining to Zoom Chief Executive Eric Yuan during a company meeting.
It's still unclear why Zoom settled on a 50-mile radius as its requirement for returning to the office, whether employees can seek exemptions, or if performance reviews will depend on in-office attendance, ComputerWorld reported.
Zoom declined Ars' request to comment further.
Return-to-office comes amid Zoom's pivot to AI
Through the pandemic, Zoom became a popular choice for many workers as COVID-19 made in-office work impossible for many. But Business Insider reported that market value has since dropped by at least $100 billion, mostly because so many companies over the past two years began requiring workers to return to the office.
Now Zoom is seemingly aligning its own thinking with businesses that can't seem to let go of office culture. Zoom's spokesperson said that with more workers in the office, "as a company, we are in a better position to use our own technologies, continue to innovate, and support our global customers."
Of course, Zoom promotes its video-conferencing tool as an asset for both in-office and remote work. Zoom's spokesperson said that Zoom itself will continue using its products to connect employees with different work styles.
"We'll continue to leverage the entire Zoom platform to keep our employees and dispersed teams connected and working efficiently," Zoom's spokesperson said.
It's possible that Zoom's pivot to AI is forcing the return to the office. Yuan said on an earnings call that building up Zoom's AI capability is a priority, ComputerWorld reported, and it's possible it has become an all-hands-on-deck situation.
Back in February, as Zoom's AI research and development expenses exploded, Zoom laid off approximately 1,300 workers. These workers were hired to "staff up rapidly" as Zoom's popularity boomed during the pandemic, Yuan wrote in a blog. At the same time, he also announced that he was reducing his own salary by 98 percent and foregoing his corporate bonus in 2023.
"We worked tirelessly and made Zoom better for our customers and users. But we also made mistakes," Yuan wrote. "We didn't take as much time as we should have to thoroughly analyze our teams or assess if we were growing sustainably, toward the highest priorities."
The future will tell if pivoting to AI and requiring the majority of employees to return to the office are other mistakes for Zoom or necessary business moves.
A 2022 Gallup poll suggested that overall the majority of workers are resistant to full-time in-office work—with more than 90 percent of 70 million workers saying that they don't want to come back to the office full time.
However, workers generally appear more open to flexible hybrid structures like Zoom is proposing. Only 34 percent of respondents said that they wanted to "permanently work from home," while 65 percent preferred hybrid work.