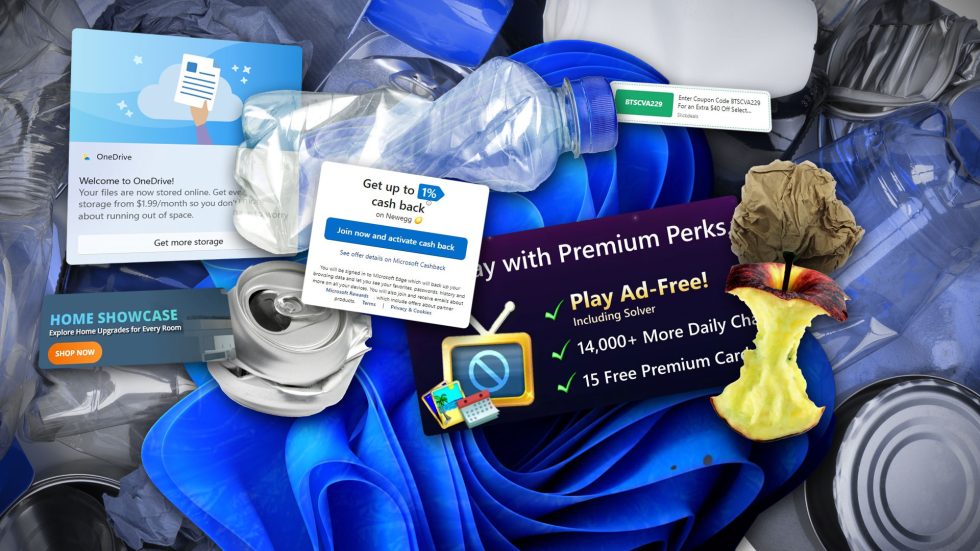 For a certain kind of computer buyer, the first thing you always did with a new laptop or desktop from a company like Dell, HP, Acer, or Asus wasn't to open the box and start using it. Instead, you took a Windows install disk directly from Microsoft (a floppy, a CD, a DVD, a USB stick), and you blew away everything on the computer's internal drive, setting up a Windows installation with only the included Microsoft software and few extraneous apps (though your definition of extraneous may differ somewhat from Microsoft's).
This time-honored practice is colloquially called a "clean install," and it was a cure for most things that ailed a new Windows PC. Computer manufacturers often distributed buggy, pointless, or redundant third-party software ("bloatware" or "crapware") to help subsidize the cost of the hardware. This might pass some savings on to the user, but once they owned their computer, that software mainly existed to consume disk space and RAM, something that cheaper PCs could rarely afford to spare. Computer manufacturers also installed all kinds of additional support software, registration screens, and other things that generally extended the setup process and junked up your Start menu and desktop.
You can still do a clean install of Windows, and it's arguably easier than ever, with official Microsoft-sanctioned install media easily accessible and Windows Update capable of grabbing most of the drivers that most computers need for basic functionality. The problem is that a "clean install" doesn't feel as clean as it used to, and unfortunately for us, it's an inside job—it's Microsoft, not third parties, that is primarily responsible for the pile of unwanted software and services you need to decline or clear away every time you do a new Windows install.
The current state of things
Did you skip out on buying Microsoft 365 during setup? There are some "suggested" notifications here to help you remember.


Andrew Cunningham

These are just a couple examples of the periodic "reminders" you'll get about other Microsoft services once you sign in.


Andrew Cunningham
The "out-of-box experience" (OOBE, in Microsoft parlance) for Windows 7 walked users through the process of creating a local user account, naming their computer, entering a product key, creating a "Homegroup" (a since-discontinued local file and media sharing mechanism), and determining how Windows Update worked. Once Windows booted to the desktop, you'd find apps like Internet Explorer and the typical in-box Windows apps (Notepad, Paint, Calculator, Media Player, Wordpad, and a few other things) installed.
Keeping that baseline in mind, here's everything that happens during the OOBE stage in a clean install of Windows 11 22H2 (either Home or Pro) if you don't have active Microsoft 365/OneDrive/Game Pass subscriptions tied to your Microsoft account:
(Mostly) mandatory Microsoft account sign-in.
Setup screen asking you about data collection and telemetry settings.
A (skippable) screen asking you to "customize your experience."
A prompt to pair your phone with your PC.
A Microsoft 365 trial offer.
A 100GB OneDrive offer.
A $1 introductory PC Game Pass offer.
This process is annoying enough the first time, but at some point down the line, you'll also be offered what Microsoft calls the "second chance out-of-box experience," or SCOOBE (not a joke), which will try to get you to do all of this stuff again if you skipped some of it the first time. This also doesn't account for the numerous one-off post-install notification messages you'll see on the desktop for OneDrive and Microsoft 365. (And it's not just new installs; I have seen these notifications appear on systems that have been running for months even if they're not signed in to a Microsoft account, so no one is safe).
And the Windows desktop, taskbar, and Start menu are no longer the pristine places they once were. Due to the Microsoft Store, you'll find several third-party apps taking up a ton of space in your Start menu by default, even if they aren't technically downloaded and installed until you run them for the first time. Spotify, Disney+, Prime Video, Netflix, and Facebook Messenger all need to be removed if you don't want them (this list can vary a bit over time).