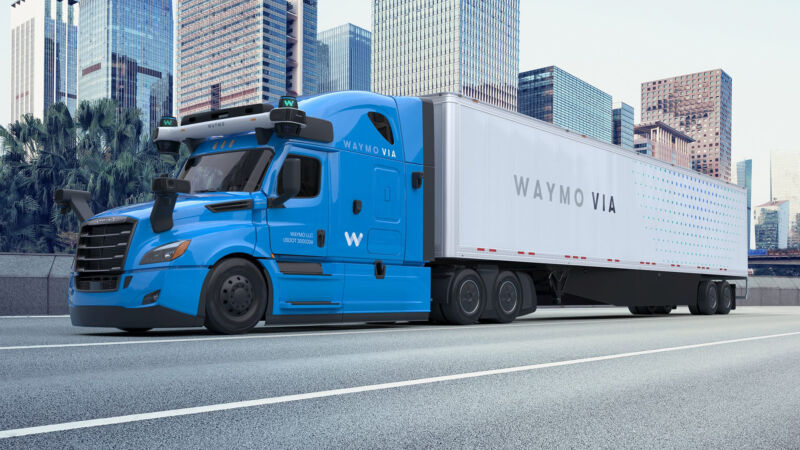 Google's cost cutters are taking another bite out of Waymo. After being hit by layoffs that cut 8 percent of staff, it now looks like the self-driving truck program—Waymo Via—is dead. Waymo's announcement blog post tries to put a brave face on things, saying the company is "Doubling down on Waymo One," its ride-hailing service, but also mentions that the company will "push back the timeline on our commercial and operational efforts on trucking, as well as most of our technical development on that business unit."
Waymo says it will somehow "continue" its partnership with big rig manufacturer Daimler Truck North America (that's where the big, blue Waymo Via truck came from), but Waymo's actions paint a different picture. TechCrunch's Kirsten Korosec reports that "the vast majority of employees on Waymo's trucking team have taken other roles within the company. A few number of individuals will be affected by the change but will be helping with the wind down of the program." Waymo's website has also been completely stripped of trucking mentions. The page for Waymo Via used to be at waymo.com/waymo-via but now 404s (archive here), and the top-level navigation button for "Trucking" is gone.
Waymo's focus on ride-hailing makes some sense. The reliability requirements for ride-hailing are much lower than trucking, making it a more lenient business. If you have a truck full of cargo, it's a major issue if something goes wrong and it can't reach its destination on time. The truck routes are many hours long over long distances and usually have some kind of delivery time attached. Your self-driving hardware and software has to work perfectly during all that. Ride-hailing is way easier. Trips are usually measured in minutes and in a localized area where you can easily dispatch support people if something goes wrong. Because the app is a central point of customer bookings, you can easily pause and resume accepting customers anytime. That makes it easy to shut down the fleet to deal with technical difficulties or bad weather. You can also rigidly control your service area and accept or decline trips on a whim. Everyone can just use Lyft instead.
Alphabet—Waymo and Google's parent company—has a penchant for killing off products that aren't actively bringing in hundreds of millions of dollars every quarter. That makes Waymo's continued survival at Alphabet a challenge. Self-driving cars are still a money-losing, ultra-long-term research project, with Waymo only bringing in a small revenue stream from the company's tiny two-city service area. Waymo has done well over the years to insulate itself from Alphabet's fickle short-term planning, mostly by raising $3.2 billion in outside funding. The outside investment, which started in 2020, indicates that Alphabet isn't willing to write Waymo a blank check anymore, and the best way to get in your boss's good graces probably is "doubling down" on the company's one revenue stream right now.
While Waymo's blog post says the company sees "a significant future commercial opportunity for our trucking solution," right now it needs to focus on "achieving commercial success for our ride-hailing business in the near term." Waymo's blog post makes a good point that the "ongoing investment in advancing Waymo Driver capabilities, especially on freeway, will directly translate to trucking and benefit its development efforts." Any continued self-driving development will help every potential area of the company's business. Someday this could be a billion-dollar business, but for now, Waymo just needs the funding to keep on trucking.