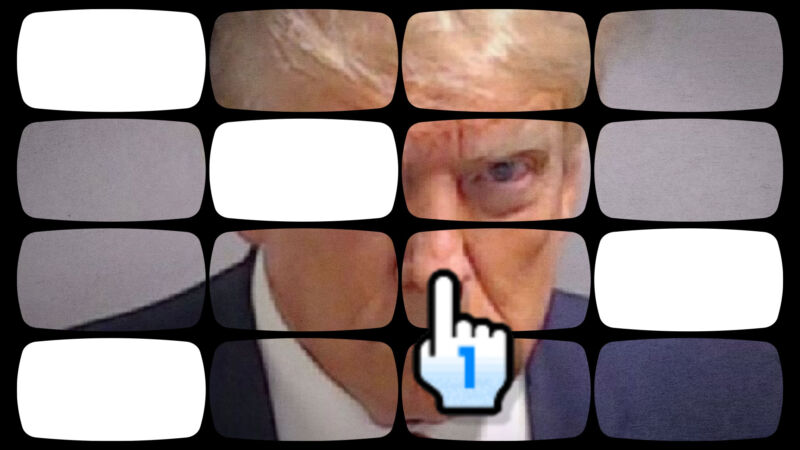 There were only a few news channels where former US president Donald J. Trump's mug shot, from his indictment in Fulton County, Georgia, would not be seen after its Thursday afternoon release.
This included the Nintendo Wii News Channel. If you still have a Wii console hooked up in your living room, you can, with an exploit, an SD card, and some patience, still have an active News Channel on your Wii. If you were checking 2023's news on your 2006 console Thursday, you could have seen Trump's image in all its fuzzy, compressed notoriety. This inadvertent performance art was made possible by RiiConnect24, a service that has been providing Wii owners with online connectivity for a longer period than even Nintendo originally offered.
Full disclosure: I am a sincerely soft target for a loosely organized crew of hackers keeping a service running long beyond its corporate end of life. RiiConnect24 certainly falls in that category. Nintendo shut off WiiConnect24 in June 2013, ending the ability to receive forecasts and news, share Mii avatars and messages, participate in the "Everybody Votes Channel," and use the network aspects of certain games.
RiiConnect brings back all of that, and it propped up other games and services left behind, including Animal Crossing: City Folk item deliveries, the Kirby TV channel, and the WarioWare D.I.Y Showcase. Even if you don't have a Wii stored in your garage, attic, or deep closet storage any longer, you can get RiiConnect24 mostly running inside the Dolphin emulator (the one back-channel banned from Steam)
The devs and Discord for RiiConnect24 are quite active, with regular updates about service status and things like silver rose gifts in Animal Crossing causing crashes. At the end of 2022, RiiConnect24 posted a Twitter thread about its accomplishments that year: Improving news languages and globe tracking, restoring more Nintendo Channel content, and hosting Wii game nights in their Discord every Saturday—and you can, of course, talk on Discord through your Wii, through a hosted instance of Discross. There were more than 70,000 Wii consoles registered to use RiiConnect24's Wii Mail service.
I reached out to RiiConnect24's Larsen Vallecillo to see if he expected to be running a Wii-based news channel in 2023. No, he replied, nor for as long as RiiConnect24 has been going.
Vallecillo said he was only 11 when Nintendo shut down WiiConnect24 in June 2013. He started working on his replacement at age 13, with no coding experience. By July 2016, he had an updated News Channel, which was no small feat. The channel uses a custom binary format for news storage, which Vallecillo had to reverse-engineer and rebuild. All of the News Channel's data, both images and text, must fit inside 3.8MB. The Python code he wrote to make this all work is still in use today and works in seven different languages.
Vallecillo notes that the News Channel is unique, given that few other services map stories to a virtual globe (done through a Google Maps API) or offer a slideshow view that better fits a TV.
What is it like running this service now as a 21-year-old? "It's pretty amazing to have people all around the world connected to our service," he wrote, noting that it has "a good 3,000 people connected daily" and that he's become "kind of a celebrity in the community." The hard part is keeping up with his community: "(G)iven the age of most of the user base being teenagers, it gets overbearing and I had to cut back on involvement."
While looking into RiiConnect24, I discovered another project aiming to keep Wiis, both physical and emulated, connected, WiiLink. WiiLink and RiiConnect24 share some contributors and have both worked to make their projects available in emulators (though WiiLink apparently has a slight edge in compatibility).
Nintendo is not a company that keeps services up (or games available) just because people like them. I tip my hat to Vallecillo, the RiiConnect24 volunteers, and others who keep old hardware relevant, along with giving us such brain-melting juxtapositions.