The Nothing Phone 2. It lights up.


Nothing

The front has a screen on it.


Nothing

The back, unlighted, which is what it will look like most of the time.


Nothing
The awkwardly named Android manufacturer "Nothing" has finally made its second-generation phone official. The Nothing Phone 2 is $599, and for the first time ever, it will be regularly sold in the US.
For the SoC we have Qualcomm's Snapdragon 8+ Gen 1. That makes this the first Nothing Phone with a flagship chip, though that is the 2H 2022 model, not the newer 8 Gen 2 chip. Then there's a 6.7-inch 120 Hz, 2412×1080 OLED, 8GB of RAM, 128GB of storage, and a 4700 mAh battery with 45 W wired charging and 15 W wireless charging. The phone has an in-screen fingerprint reader. The worst part of the spec sheet is an IP54 rating for dust and water ingress, which means it can really only handle rain and isn't submergible. For its cameras, you have a 50 MP Sony IMX890 sensor as the main sensor and a 50 MP Samsung JN1 sensor as the wide-angle. The front camera is a 32 MP Sony IMX615.
In the US, the phone has full band support for AT&T and T-Mobile and what Nothing is calling "limited support" for Verizon. There's a full band list on the website, but it looks like there's no support for Verizon's primary 700 MHz LTE band, band 13, and no mmWave. On the plus side, there's full support for Verizon's sub-6 GHz 5G bands. I'm not a Verizon customer to really know how big of a deal that is, and it would depend on your location anyway, but it's a little concerning there's no LTE.
The phone ships with Android 13 and has three years of Android OS updates and four years of security patches that will only arrive every two months. Skimping on security doesn't sound great, and it's not clear how good Nothing is going to be at Android updates. So far we have a single data point: The company took four months to deliver Android 13 to the Nothing Phone 1. On one hand, Nothing CEO Carl Pei has said that the initial Android 12 builds were done by outsourced teams. Since then, Nothing has staffed up an in-house software division and now has "close to 100 people on software." On the other hand, Pei has also said that Android updates are "not that important." So we'll see what the future brings.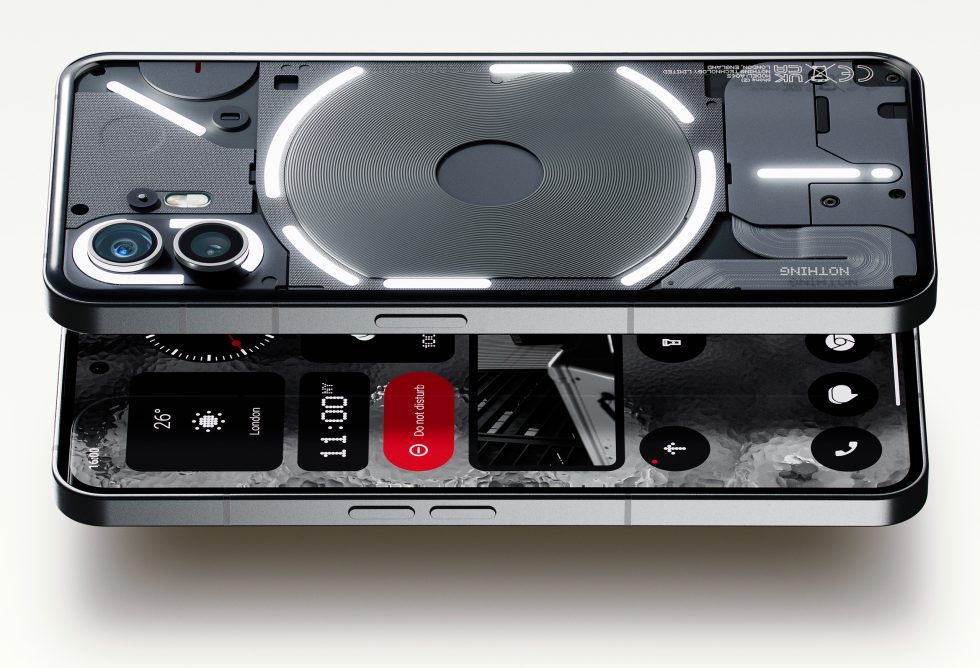 The sides are flat aluminum rails, and the front and back are Gorilla Glass. I guess we should talk about the light-up elephant in the room: this screaming back panel. Nothing's trademark is a transparent back design with lights in it, and this year it has a few changes.
Some phones have transparent backs that present a completely fake phone interior, but teardowns revealed the Nothing Phone 1 used a mix of fake and real components. On the first phone, all those screw heads were real, and it would have been way better if the screw heads were actually exposed on the outside of the phone for better repairability instead of entombed under a layer of glued-on glass. The concentric circles that dominate the back evoke a wireless charging coil, but that's fake. A charging coil needs to be a spiral of copper, not the concentric rings that the back panel presents. The real wireless charging coil was hidden right under that molded circle, but it was a bit smaller than the molded part suggested. Any visible ribbon cables were real, and while some of the flat panels were just pointless covers, others had antennas running through them.
The Nothing Phone 2 is probably built similarly. There are some new greeblies in there that can't possibly be functional; one looks like a toggle switch in the top half, and next to that, a half-circle with a red line in it.
This time the LED system on the back uses individually addressable LEDs, so Nothing can do tricks like make one of the line segments fill up like a progress bar. This can indicate a timer, charging progress, or an Uber arrival time, thanks to new third-party integration.
The phone is up for preorder now and ships on July 17.
Listing image by Nothing