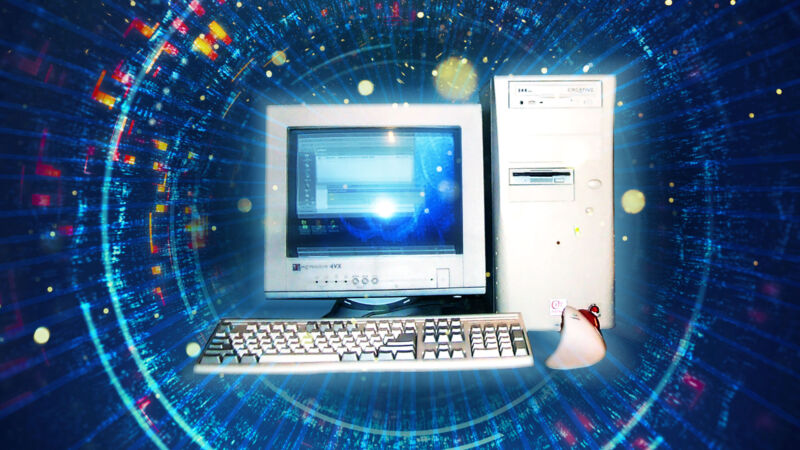 "When checking the system this morning, I noticed your account logged in for over 20 hours," begins a December 1998 email from the president of my dial-up Internet service provider (ISP) at the time. "Our service is unlimited, but we ask that you actually be using the connection while logged in."
Today, when it seems like everyone is online 24/7 through smartphones and broadband, I'd be weird if I wasn't online for 20 hours straight. But 1998 in Raleigh, North Carolina, was different. In an age of copper telephone lines and dial-up modems, Internet access wasn't usually an always-on situation for a home user in the US. Each occupied telephone line meant another ISP customer couldn't use it—and no one could call you, either.
But I'm getting ahead of myself—why do I have an email from 1998?
A voice from the past
I save everything. It's just what I do.
Being an amateur data archivist has served me well during my career writing about tech. About eight years ago, I decided to search my archives for old email files and import them all into Apple Mail for OS X, organizing them chronologically so I could look at them all in one place. I found Internet emails going as far back as 1995, when I started using a POP3 client instead of Pine. While browsing emails from 1998, I found a curious nugget from another era that blew me away.
From: Eugene J. Fourney III
Date: December 18, 1998 11:21 AM
Subject: Online for 20 hours straight

Thank you for allowing NetWorks to provide Internet service.

I am writing because when checking the system this morning, I
noticed your account logged in for over 20 hours.

Our service is unlimited, but we ask that you actually be using the
connection while logged in. This has not been the case on occasion with
your account.

We must ask that you take measures to ensure that you disconnect after
any given session. Our resources must be shared between many customers,
and the only way to accomplish that is for people to close the
connection when they are not actively using it.

Please help with this by checking your dialer settings, and setting it
to disconnect after 30 minutes of inactivity. Please also uncheck the
option in your email program that automatically checks mail every 10
minutes, or set it to some number higher than 30 minutes.

If you need help in locating these settings or want to discuss this
further, please contact me at this email address or at our offices at
518-0351 or 518-8034.

Gene Fourney
I vaguely remember getting this email and thinking it was ridiculous because the connection was supposedly "unlimited." My family paid NetWorks a monthly fee (a $24.95 "Family Plan" for three user IDs) that allowed me, my dad, and my brother to connect to the Internet as much as we wanted—or so I thought. I showed the email to my father, who shrugged it off.
Between 1995 and 2000, I used a dial-up ISP, which meant that I had to call in to the ISP using a regular copper phone line and a dial-up modem running at anywhere between 14.4Kbps to 56Kbps over the years. Since most people also used their telephone lines for talking with their voice, there was a basic assumption that most calls to the ISP would be temporary. If your line was occupied, you would miss incoming calls. In my situation, my parents had set up a second phone line exclusively for my BBS in 1993 so I could spend as much time online as necessary without worrying about blocking incoming phone calls to my family.
A key issue I had with the email was the implication that I wasn't using my Internet connection during those 20 hours. I'm pretty sure I was using it, and not just for automatically checking my email every 30 minutes, as the email suggests.