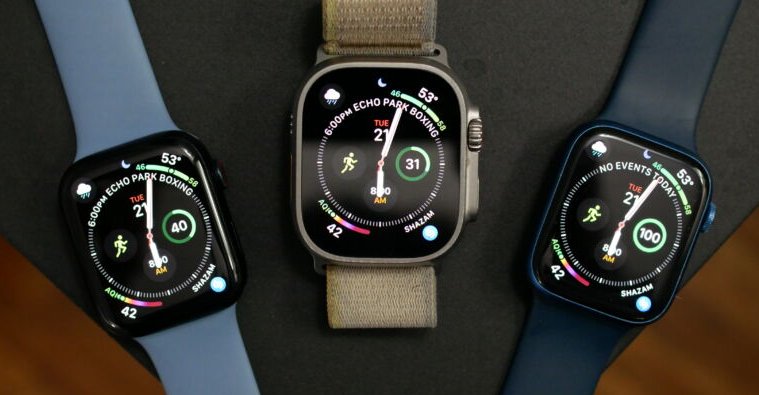 Annual updates to the standard Apple Watch have been almost too small to mention for the past few years, and it looks like that trend will continue with the new wearables Apple plans to debut next month. But, according to a Bloomberg newsletter, a major Apple Watch overhaul is coming as soon as next year.
Dubbed "Watch X," it will be the 10th edition of the Apple Watch that was originally announced in 2014 and released in 2015. To commemorate the occasion, Apple is planning the most significant redesign of the Watch yet apart from the recently launched Ultra, which is more of a spinoff than a direct follow-up.
Of course, that's not saying much. Each year's update has typically brought one small change—like a slightly bigger screen, a modest CPU speed bump, or a new health tracking feature aimed at one specific ailment—such that there's little reason to upgrade even once every two or three years, much less annually.
Bloomberg reporter Mark Gurman wrote in his weekly newsletter on Sunday that Apple executives have considered moving away from an annual upgrade cycle for the Watch because each update doesn't do quite enough to attract attention. But the cycle continues for now, with next month's Apple Watch Series 9 set to offer little more than bump in processor speed and some new color options.
For the Series 10 (or Watch X) in 2024 or 2025, though, Apple plans to introduce a thinner watch case alongside a new method for attaching bands to the watch. The current design uses a sliding-and-locking mechanism that takes up space that could be used for slightly more battery or other helpful components, and the company's designers are exploring a way to attach bands to the device magnetically.
Of course, the ability to use older bands on new Watch models has been important to consumers, and it's possible or even likely this change will lead to a seismic shift on that front unless there's some workaround like a magnetic attachment that can slot into the old bands.
Ending support for older bands might seem like a net loss, but Gurman says those working on developing the new Watch models believe there will be upsides for users thanks to freed-up space or a more flexible design.
Apple is also reportedly working on a microLED display for a future Apple Watch model (though it was unclear from the Bloomberg newsletter whether this is slated for the Watch X or a later model). This could offer several benefits over the current OLED display, and it would be one of the first mass-market applications of the technology for consumers.
Gurman notes that because the Watch X is intended to be a 10-year anniversary release, it could actually land in either 2024 (the anniversary of the year the first Apple Watch was announced) or 2025 (the anniversary of the year the first Apple Watch was actually released).
If Apple keeps to the annual release cycle and the Watch X launches in 2025, it will confusingly not be the 10th as the Roman numeral X suggests. But the iPhone X taught us that Apple's product names are not necessarily beholden to mathematical common sense, so you never know.