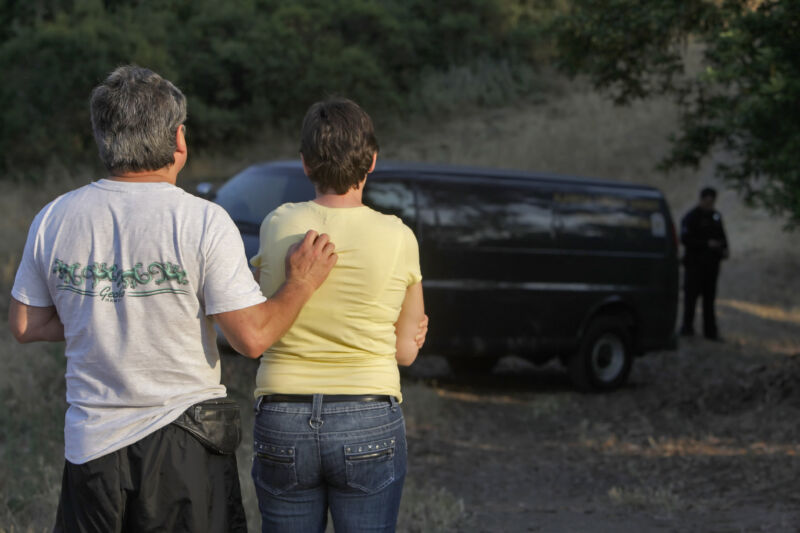 When Apple was about to introduce Time Machine in Mac OS X Leopard, John Siracusa wrote in the summer of 2006 about how a new file system should be coming to Macs (which it did, 11 years later). The Mac, Siracusa wrote, needed something that could efficiently handle lots of tiny files, volume management with pooled storage, checksum-based data integrity, and snapshots. It needed something like ZFS or, perhaps, ReiserFS, file systems "notable for their willingness to reconsider past assumptions about file system design."
Two months later, the name Reiser would lose most of its prestige and pick up a tragic association it would never shake. Police arrested the file system's namesake, Hans Reiser, and charged him with murder in connection with the disappearance of his estranged wife.
Reiser's work on Linux file systems was essentially sentenced to obscurity from that point on. Now that designation has been made official, as the file system that was once the default on systems like SUSE Linux has been changed from "Supported" to "Obsolete" in the latest Linux 6.6 kernel merge process (as reported by Phoronix). While a former employee of Reiser's company, Namesys, continues out-of-source work on later versions of ReiserFS, it is likely to disappear from the kernel entirely in a matter of years, likely 2025.
It's an ignoble end for a filesystem that, at one time, could have been the next big thing for Linux file systems.
Hans and Nina Reiser were in the midst of divorce proceedings when Nina disappeared in September 2006, having been last seen dropping her kids off at Hans' home. The two had clashed repeatedly over child support, and Nina had a protective order against Hans by then. During their investigation, police found Hans' Honda CRX miles from his home. The inside was waterlogged, the passenger seat removed, and police discovered a sleeping bag cover with a 6-inch stain of Nina's blood, along with two books on police murder investigations.
Reiser was convicted by a jury after a trial in which he provided "bizarre courtroom behavior and convoluted arguments," and a "geek defense," over 11 days. He was later sentenced to a relatively lenient 15 years to life after leading officials to his wife's body following his conviction but before sentencing.
Before his arrest, Reiser's self-named file system was positioned to have a real impact on the future of open source file systems. ReiserFS addressed ext2's lack of journaling, added B-tree indexing, and worked much faster when dealing with huge numbers of small files. Others had praised the system's stability under power or system failure, able to recover and restore data faster than other systems at the time. ReiserFS "garnered much praise and even major industry support," wrote Jeremy Reimer in a history of file systems from 2008, but "the wheels started to come off for reasons that were primarily non-technical."
Reiser abruptly dropped support for ReiserFS, focusing instead on Reiser4, which required a reformat for anybody who wanted to upgrade. There were "questions about the reliability and stability of Reiser4," Reimer noted, but Reiser's arrest on a grisly murder charge had more impact. When ext3 added journaling support, its status as a known, reliable quantity made it the next default, "despite valiant attempts to establish ReiserFS as a new standard." By July 2008, Ars' "postmortem analysis" of the ReiserFS mailing list showed little interest among developers in maintaining its code. Last year, Jeff Mahoney, maintainer of the ReiserFS project upstream for OpenSUSE, proposed its immediate removal.
Reiser was last seen in court in 2012, this time acting as his own attorney in defense of a wrongful death suit brought by his then-pre-teen children. Reiser argued that he had prevented harm to his children by killing their mother, but a jury found him liable for $60 million in damages. Any "hidden assets" or "anything of value he might develop while behind bars" would be obligated to the children.
Reiser, now 59, has been eligible for parole since January 2019. He is imprisoned at the California Health Care Facility in Stockton. Reiser was denied parole in March 2020 and will next have a suitability hearing in August 2027, according to the California Department of Corrections and Rehabilitation.
Former Namesys developer Edward Shishkin continues to work on Reiser5 (i.e., ReiserFS 5) and is regularly covered by the Phoronix blog. Ars reached out to Shishkin for comment and will update this post with new information.