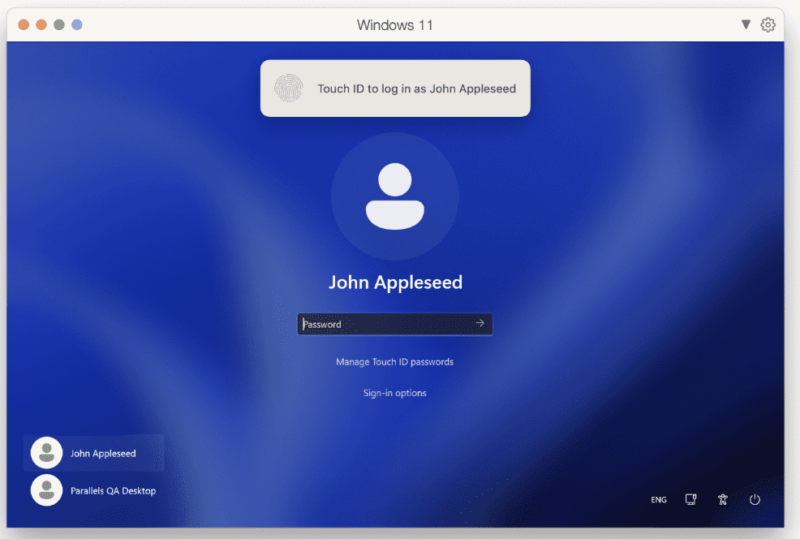 It's an annual tradition to see an update to Mac virtualization software Parallels Desktop a few weeks before the next major macOS release. Like clockwork, we've come to that time again: Parallels Desktop 19 is available now, with a handful of improvements for users who want to run Windows or Linux on their Macs.
It's not the most radical year-over-year update we've seen, but there are some welcome optimizations and tweaks. The headlining feature is the ability to use Touch ID to sign in to your Windows virtual machine. When you next launch your Windows VM, your Windows password can be saved to your Mac's keychain with a Touch ID-specific record that is unique to your device. It's important to note that this is just for signing into the VM, though; this is not full Touch ID support for all the places Windows Hello appears throughout Microsoft's operating system.
There are also various tweaks to make Parallels macOS Sonoma-ready, what with Apple's annual OS update coming sometime this fall. For example, a change in Sonoma would have broken the Shared Printing feature that allows you to print from your Windows VM. Parallels' engineers re-configured the feature to get it working within the new release and made some improvements to it.
There are also numerous tweaks to running macOS VMs on Apple Silicon, addressing some recent user frustrations, like limited use of multi-touch gestures on the trackpad. And for users who are trying to run Windows applications, an upgrade of OpenGL support to 4.1 makes more applications—particularly CAD software like VariCAD, Deswik.CAD, and Vectorworks Vision 2023—run. There's unfortunately still no DirectX 12 support, though.
Support for Linux distros has been expanded, and you can now run x86 binaries and containers within a Linux ARM VM on Apple Silicon Macs thanks to some creative application of macOS's Rosetta 2. All those changes are topped off with some rebranding on Parallels' part, with some different design elements, including a new application icon.
Perpetual licenses of Parallels Desktop releases go for $129, or you can pay $99.99 annually for the software-as-a-service option with continual updates, if that's your preference. Upgrading a previously purchased perpetual license costs $69.99. All the changes in Parallels Desktop 19 are available today to users who have a current license.