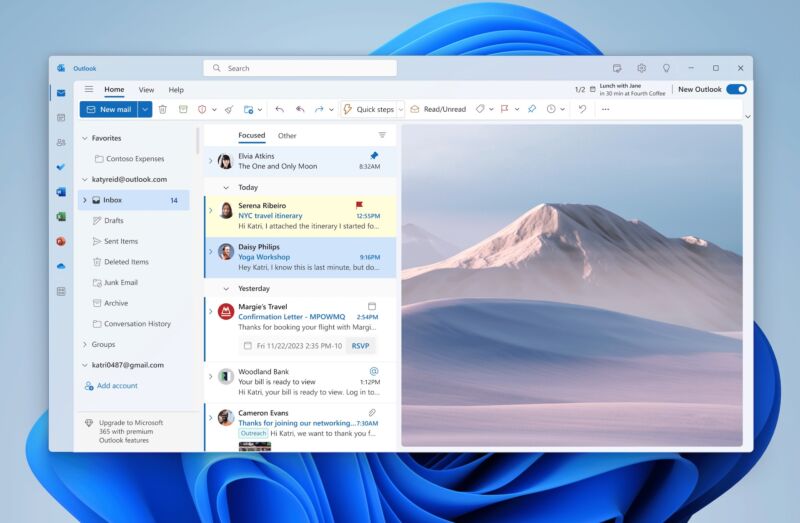 Windows 11's next major release continues to take shape in the company's Dev channel Insider Preview builds, and last month, Microsoft added the first preview of the AI-powered Windows Copilot feature. This week's build makes a few other noteworthy changes, replacing Windows' built-in Mail and Calendar apps with the work-in-progress Outlook for Windows app, changing how the operating system displays emoji, improving Windows' local file-sharing capabilities, and more.
Microsoft has been working on the Outlook for Windows progressive web app for a couple of years now. The version in the Windows 11 build is labeled as a preview, and it's still missing fairly significant features, including IMAP support for third-party mail services, iCloud Mail support, and an offline mode (though it does support multiple accounts now). It also left the Mail and Calendar apps installed on my test PC, though this may change by the time it's released to the public—Microsoft has said that it will continue offering Mail and Calendar in the Windows Store through the end of 2024 before discontinuing both of them.
For third-party services that Outlook for Windows does support, like Gmail, the Outlook app will sync a copy of your email, calendar, and contacts with Microsoft's servers rather than communicating directly with Google's servers and storing files locally as a traditional mail client would. This makes it so third-party mail accounts get all the same features and benefits as Microsoft accounts when used in Outlook for Windows, but it also means there's a second copy of all of your data out there, subject to both companies' privacy policies and security breaches.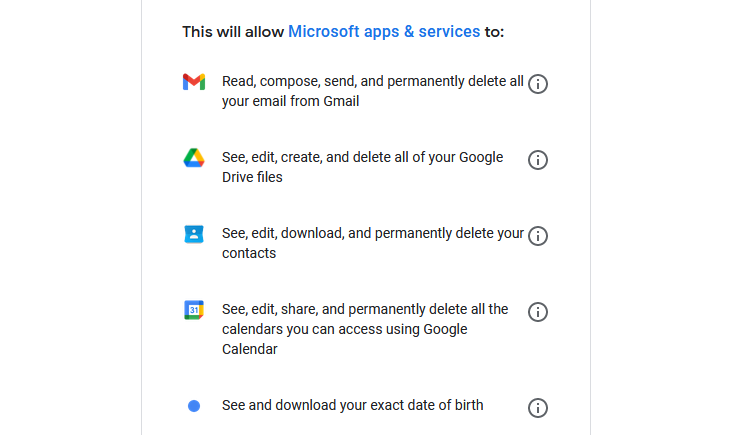 Some version of Windows Mail (or Windows Live Mail) has been Windows' default email client since Windows Vista, when it replaced Windows XP's Outlook Express. The current version has been essentially the same since Windows 10, though the apps did get small facelifts to bring them in line with Windows 11's updated design.
On the more whimsical side of things, this build of Windows 11 updates the operating system's "color font format" from COLR version 0 to COLR version 1, enabling the use of gradients and "various blending modes" in Windows 11's fonts. Most immediately, users will notice this in the operating system's emoji, which keep the same designs as before but switch from flat colors to the 3D rendered versions Microsoft initially announced two years ago (and open-sourced last summer).
Per usual, there's a long list of other changes, either smaller and less-noticeable or made to less frequently encountered corners of the operating system. The built-in share window has been improved with a new look and a contacts search, and it uses Wi-Fi Direct for faster sharing between two computers. When certain security settings are enabled, Windows will warn you when you're copying and pasting unsafe passwords. New Auto Color Management (ACM) features for SDR displays announced in the spring are now available to anyone with a supported GPU. And Microsoft has added additional energy-saving recommendations in the Settings app. The blog post has the full list of changes.
Microsoft has been releasing Windows 11 feature updates to the public in small batches every few months rather than waiting for a new yearly update as it would have in the past. The company is still due to release a 23H2 update sometime this fall, but we don't know what's going to be in it—current preview builds are all still using the Windows 11 22H2 version number. We expect Copilot and several of these features to be released in the fall, one way or another.
Listing image by Microsoft Design