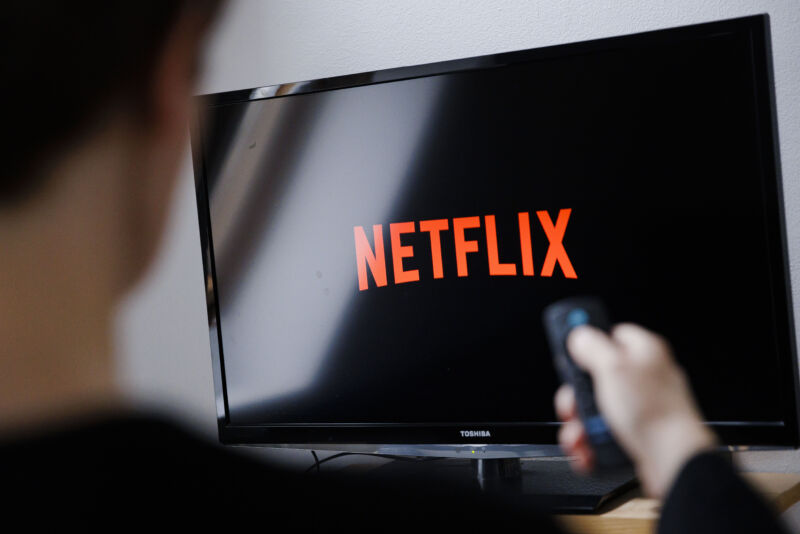 Netflix no longer lets new subscribers select its Basic plan in the US. The $9.99-per-month plan is nixed in the UK, too, making the lowest-tier plan available for Netflix newcomers the $6.99/month one with ads and a limited library.
As spotted by UK-based cord-cutting publication Cord Busters today, Netflix's Basic plan, which was the lowest-priced tier available to those who didn't want to endure ads before or during shows and movies, has been axed. The plan allowed viewers to watch content at up to 720p resolution, supported one device, and let you download content for times when you wanted to watch Netflix sans Internet.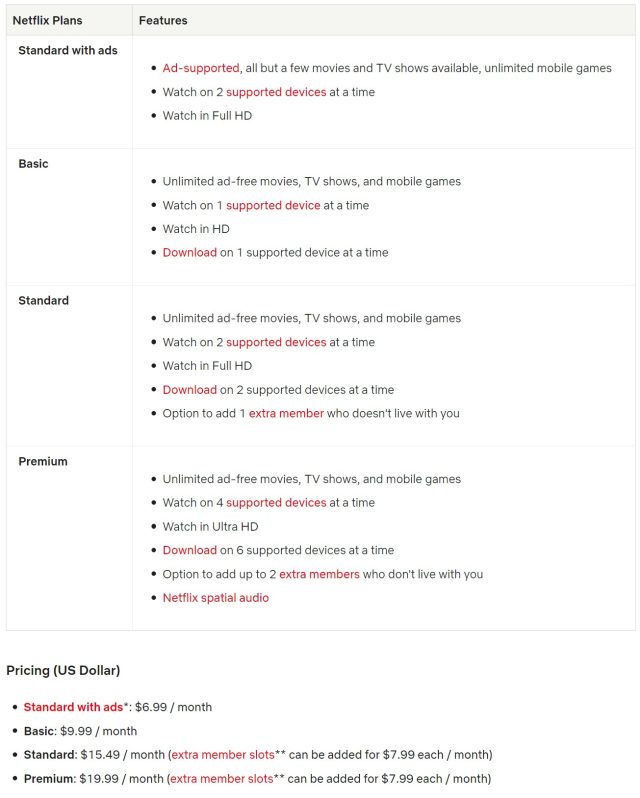 Those who already have the Basic plan, though, are grandfathered in.
Netflix's plans and pricing page now reads:
The Basic plan is no longer available for new or rejoining members. If you are currently on the Basic plan, you can remain on this plan until you change plans or cancel your account.
New subscribers now have three options, from $6.99/month to $19.99/month: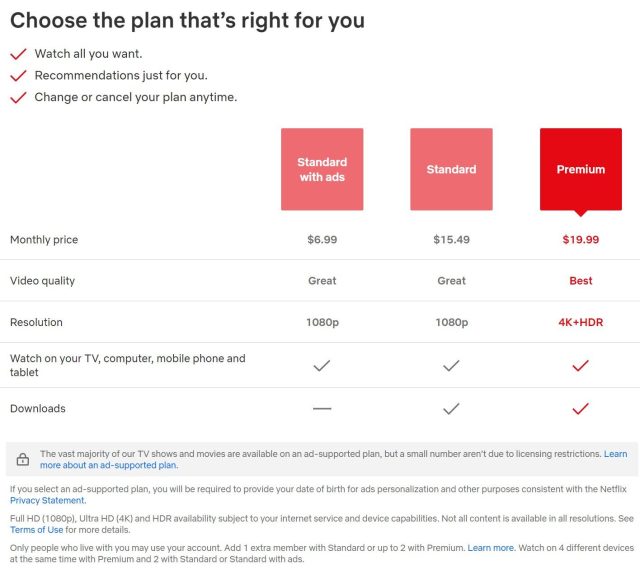 At $15.49/month, Netflix's cheapest ad-free tier is now costlier than those of Hulu ($14.99/month), Apple TV+ ($6.99/month), Disney+ ($10.99/month), Paramount+ ($5.99/month or $59.99/year), and Peacock ($11.99/month). Max is slightly more ($15.99/month or $149.99/year).
Revenue talks
Netflix had already been subtly weaning us off the idea of a basic ad-free plan. The company already made the Basic plan harder to find on its plan page in December, making users click "See all plans" to find it. And the fate for US subscribers seemed all but sealed when Netflix nixed the Basic plan for new subscribers in Canada last month.
The reasoning? Netflix hasn't said outright (although the company is holding a meeting at 3 pm PT, so it's possible we'll hear more then). However, it's not hard to surmise what Netflix is thinking here.
With Netflix facing more competition than ever, the company has been pushing for ways to make more money, including cracking down on password sharing. During the 2023 Netflix Upfront in May, Netflix's president of worldwide advertising, Jeremi Gorman, said the company's ad-supported tier had "nearly five million global monthly active users." Netflix co-CEO George Peters added that, on average, over 25 percent of sign-ups selected the ad plan in early 2023.
Going deeper, third-party data from Antenna that examines plans selected by new Netflix subscribers and highlighted by TechCrunch today suggests that the ad-supported tier has been wooing new subscribers more than the Basic plan.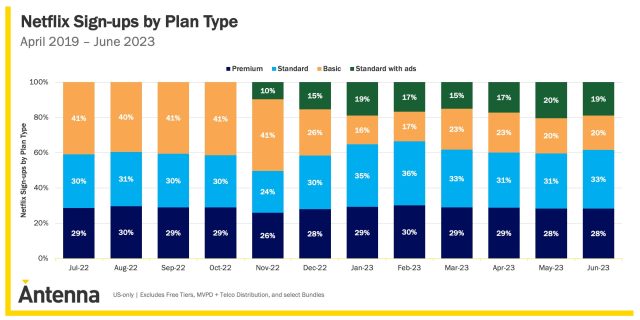 It claims that from November 2022 to June 2023, the ad tier grew from representing 10 percent of new sign-ups to 20 percent in May and 19 percent in June. The Basic plan that Netflix all but killed today reportedly saw membership drop from 41 percent to 20 percent in June. Meanwhile, the more expensive Standard and Premium plans saw increases from November to June (24 to 33 percent for Standard and 26 to 28 percent for Premium), according to Antenna.
Netflix hasn't confirmed these numbers, which slightly differ from Peters' May statement. But it's easy to see why one would opt for more devices and higher resolution for $5.50 more per month or save $3 per month by dealing with ads and somewhat fewer shows and movies (up to 10 percent, Netflix has said). With Netflix making the Basic plan harder to spot on its website as of December, it makes sense that new sign-ups for the tier would decline.
In addition to the remarks made at Netflix's Upfront, an April letter to shareholders [PDF] claimed that engagement on Netflix's ad tier surpassed initial expectations. Netflix's letter also said that in the US, the ad plan had greater total average revenue per member, which includes revenue from subscription fees and ads, than the $15.49/month Standard plan.