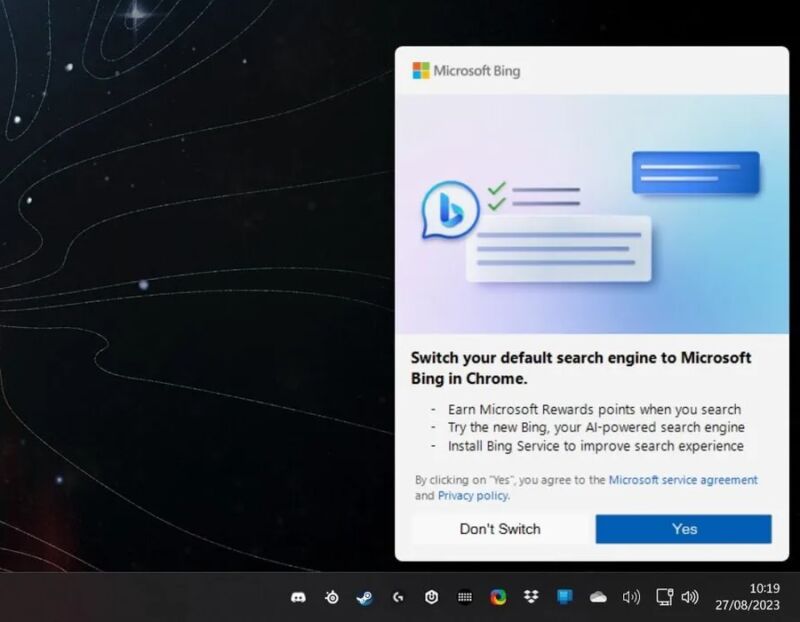 In July, Microsoft began to let web browsers other than Microsoft Edge access and use its AI-powered Bing Chat service.
This is unsurprising and not a big deal in and of itself. Microsoft has been pushing its "new Bing" preview relentlessly all year, and the potential user base gets a whole lot bigger if you don't restrict the service to a browser that fights with Firefox and Safari for Google Chrome's scraps.
Now, multiple users and The Verge have all noticed a new notification that's being shown to users of Windows 10 and Windows 11, prompting them to use the Bing search engine with Chrome, their default browser. Microsoft semi-regularly pushes Bing on Edge users who have already gone out of their way to select a different search engine. Windows 10 and 11 periodically encourage you to use Edge, and some of Microsoft's sites will also recommend Bing to non-Edge users, something that many of Google's sites also do to encourage Chrome use. But this is, to my memory, the first example of an operating-system-level notification trying to get you to use Bing in a third-party browser.
Microsoft rep Caitlin Roulston told The Verge that this behavior was "unintended" and that the notification had been "paused" pending an investigation. It's unclear what the "intended" behavior of this notification was supposed to be.
According to those reports, it's also not part of Windows' built-in notification system, as most Bing, OneDrive, and Microsoft 365 notifications are; it's an entirely separate executable file called "BGAupsell.exe," digitally signed by Microsoft. Although I haven't seen this specific notification on any of my Windows systems, an Ars reader also sent us some screenshots of the executable in question running on Windows 10.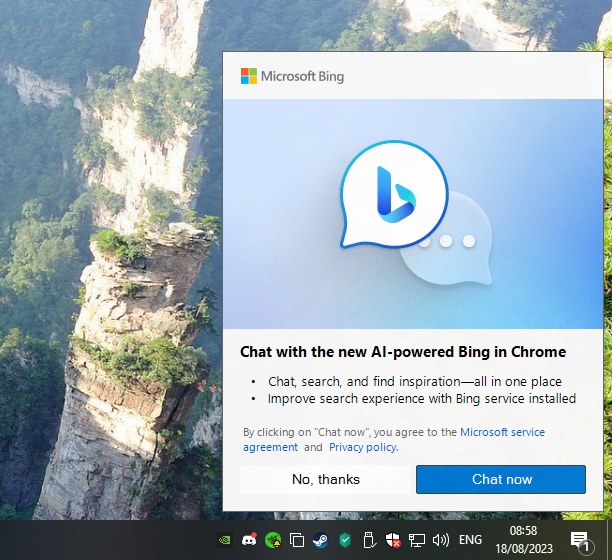 This is just one notification (for now!), easily dismissible. But it joins the insistent and increasingly embarrassing notifications that Windows 11 pushes on users about Edge, Bing, Microsoft 365, OneDrive, and Game Pass. (Did you know that if you try to open a link with the new Outlook app that it will prompt you to open those links with Edge? That one was new to me.)
We wrote about this kind of behavior in Windows recently. It's just one more example of modern Windows acting like a free-to-play browser game rather than a flexible computer operating system that respects its users' choices, despite being commercial software that your PC maker pays for (even if most people no longer directly buy Windows themselves). This new Bing-in-Chrome notification is a further escalation of that behavior, both in what it's asking for and in the way it's being delivered to users.
Listing image by Microsoft