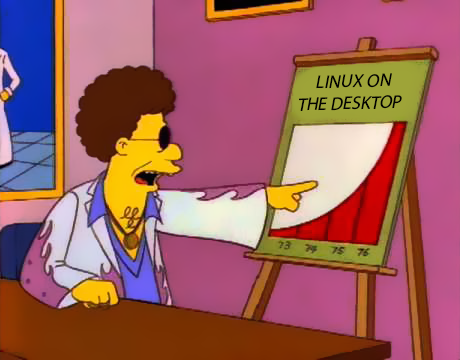 According to one measurement by one firm, Linux reached 3.07 percent market share of global desktop operating systems in June 2023. It's a notable first for the more than 30-year-old operating system, though other numbers in Statcounter's chart open it up to many more interpretations. It's either the year of the Linux desktop or a notable asterisk—your call.
As Statcounter explains, its numbers come from tracking code installed on more than 1.5 million websites across the globe, capturing roughly 5 billion page views per month. Statcounter says it does not collate, weigh, or otherwise adjust its data aside from correcting for bots and Google Chrome's prerendering. Laptops are included in "desktop" because there is no easy way to separate them. And they're subject to revision for up to 45 days after publication.
Five years ago, Linux made up 1.69 percent of Statcounter's June numbers. In the year between June 2022 and 2023, Linux unsteadily crept up from 2.42 to 3.07 percent, jumping past 3 percent for the first time between May and June. If you regard Chrome OS as a Linux system, you could add that 4.13 percent and get to 7.2 percent.
Statcounter's global desktop operating system market share figures for June 2022 to June 2023.


Statcounter

Statcounter's US desktop operating system market share figures for June 2022 to June 2023.


Statcounter
Looking at the other numbers and locations from the year leading up to June 2023, however, and there's a lot going on. Windows drops from 76.33 percent to 68.23 percent one year later, recovering a bit from a heavy winter/spring slump that took it down to 62.06 percent. Is Microsoft's suspension of sales in Russia, starting March 2022, a factor? What else would explain a more than 14 percent drop in one year?
That something else could be "Unknown," which ramps up gradually, then jumps and stays at 13 percent, just as Windows sees its slump. Tom's Hardware suggests "Unknown" is likely "very new or very old versions of popular OSes," which tracks. Linux isn't gaining on the same kind of quirky curve, but more gradually.
Also growing gradually, but confidently, was MacOS, which Statcounter sees as growing from 14.64 percent in June 2022 to 21.32 percent a year later. Windows and Mac's numbers in June 2022 account for 89.5 percent of desktops, leaving the remainder for Chrome, Linux, and the inconsistent "Unknown" to vie for a much lower third-place podium spot.
If you switch to a US-only view, Linux did not hit 3 percent, and in fact, lost a little share, from 2.14 percent to 1.96 percent. MacOS is gaining more consistently here, from 24 to 34 percent, and Windows dropped about the same amount, but from a lower level, to 55 percent. "Unknown" had a less wild ride in a US-only view but still fluttered upward in the spring, seemingly taking away from Microsoft and Linux.
Because we couldn't help ourselves, we asked GPT-4 to graph out when, assuming a similar growth pattern from 1991 to 2023, Linux would reach 100 percent desktop market share. GPT-4 told us that, assuming linear growth, "which is a significant simplification and not likely accurate for the real world," it could see the existing 0.096 percent-per-year growth rate average reaching 100 percent in the year 3033.
It's worth noting that two other prompts resulted in answers of "January 2121" and "2002." The Year of the Linux Desktop is in the past; it's in the future; it's at 3% or 7.2% or neither; it's global or local; it's impossible and inevitable. It never stops being fascinating.