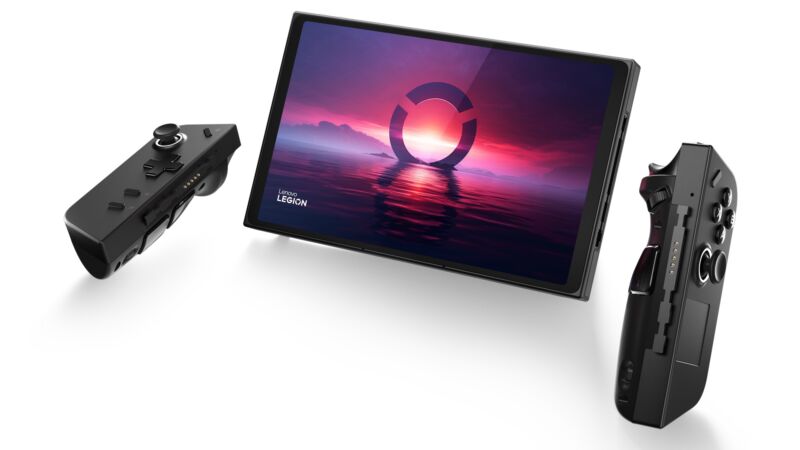 Few people would pick up the Steam Deck or Asus ROG Ally and think that what they lack is size. But Lenovo's entry into the field of portable gaming PCs is coming in with an 8.8-inch screen, and a lot of other big ideas attached, too.
The Lenovo Legion Go's QHD+ screen—2560×1600, 16:10 ratio, 144 Hz, and 500 nits—and its base module make it bigger than Apple's current iPad Mini. Add on detachable controllers, and the Legion Go is 11.8 inches wide by 5.5 inches tall, with a 1.6-inch depth. All that is 1.88 pounds, which is about half a pound heavier than the ROG Ally and 0.4 pounds more than the Steam Deck.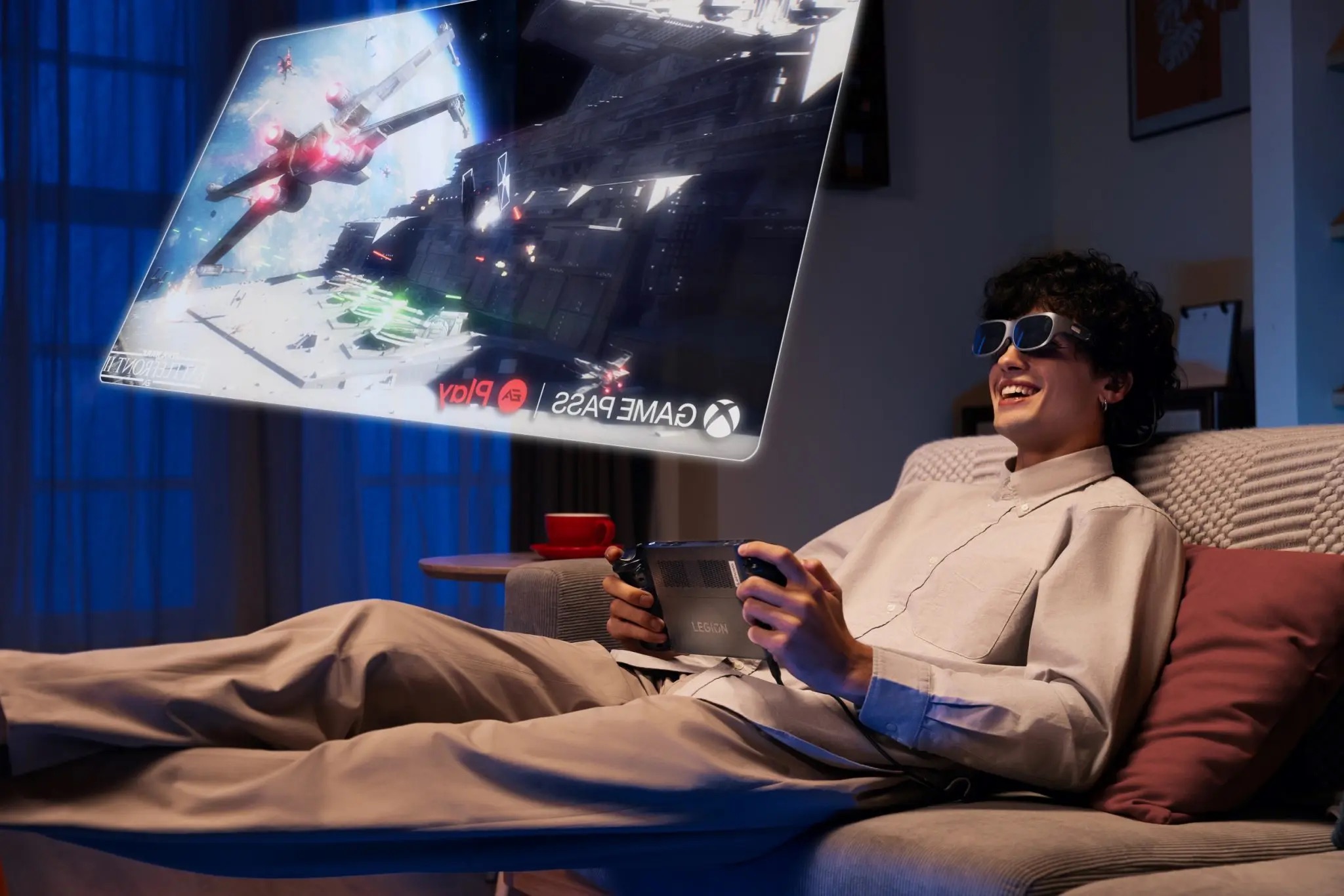 But Lenovo seems to have anticipated your tired arms, suggesting a few different ways to play the Legion Go. They start with a Switch-like detachment of the controllers and propping the Go up on a flat surface. Then, if you're playing a first-person shooter or other game that requires precise movements, you can use either of the controllers as a vertical mouse, complete with a mouse wheel. And then there's the optional Lenovo Legion Glasses, which can purportedly project a virtual 86-inch display onto your vision, augmented reality-style.
Also, there's a touchpad. It's important to point out that this portable PC, running Windows, has a touchpad.
The Legion Go starts at $700, with a CPU listed as "up to" an AMD Ryzen Z1 Extreme, like the ROG Ally, at which this device seems to be directly aimed. Its 49.2Wh battery is larger than either the Steam Deck or Ally, which should be helpful for those making use of its 144 Hz refresh rate. There's a bunch of ports, including 3.5 mm audio, two USB-C ports (with USB 4.0, DisplayPort 4, and Power Delivery 3.0), and a microSD reader. There's 16GB of LPDDR5X memory onboard, and you can buy up to 1TB of internal storage or add up to 2TB in a microSD card.
The specs look impressive; the AR glasses and "RGB Gaming" headphones with "7.1 surround sound audio" you can take or leave. What remains to be seen are how the Legion's relative bulk feels during a handheld session, what kind of battery life that extra heft provides, and how Lenovo fares at creating a big-yet-still-handheld launcher experience for a Windows handheld. Lenovo also promises a "whisper quiet fan" and "icy cool thermals," which will be impressive on a device with a higher-resolution screen and big battery.
The Verge's Monica Chin got some hands-on time with the Legion Go at IFA 2023 and reported mostly positive experiences with the detachable controllers, screen, and fan noise. But Chin experienced button-mapping issues "at multiple points in multiple games," being told to press "Escape" or "B0" or other confusing inputs. The Legion Go, like the Ally, is not running any specialized version of Windows for handhelds, for none exists right now; it's just Windows, and it's up to Lenovo to figure it all out before launch.
That launch is expected in November 2023, with the glasses and headphones available in October.