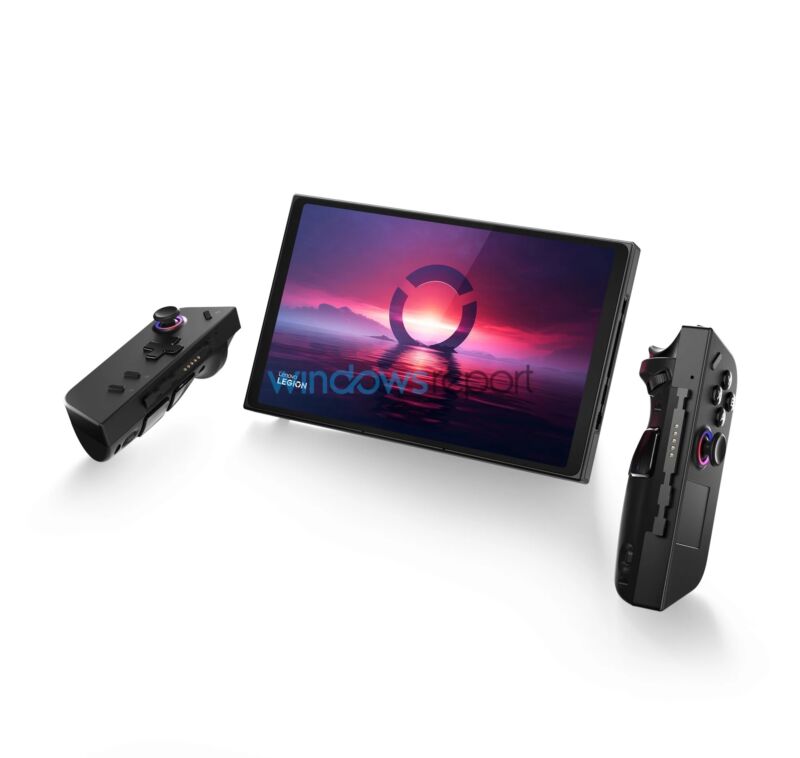 A few weeks ago, we heard the first reports about Lenovo's Legion Pro, the company's planned answer to handheld PC gaming machines like the Steam Deck and ROG Ally (not to mention the upcoming Ayaneo Kun). Now, the first photos of the device (via Windows Report) show at least one major feature that should set it apart from that competition: Switch-style detachable controllers.
The Legion Pro wouldn't be the very first portable PC gaming device with removable controllers; the crowd-funded OneXplayer sported a similar design last year, for instance. But few other PC-based portables have similarly mimicked the Switch Joy-cons in their ability to slide smoothly off from the main screen of the system for detached play.
Combined with a nice, wide kickstand shown in the leaked images, you should be able to give your arms a rest by setting the bulky-looking Legion Pro's screen on a tabletop. The slide-off controls also mean you don't need to purchase and/or drag out a separate controller when docking the device to a TV or monitor (which we assume will be a main use case of the device's two USB-C ports). And completely detachable controls for each hand means you can keep your hands as far apart as you want while you hold each "half-controller" separately (one of our favorite unique use cases on the Switch).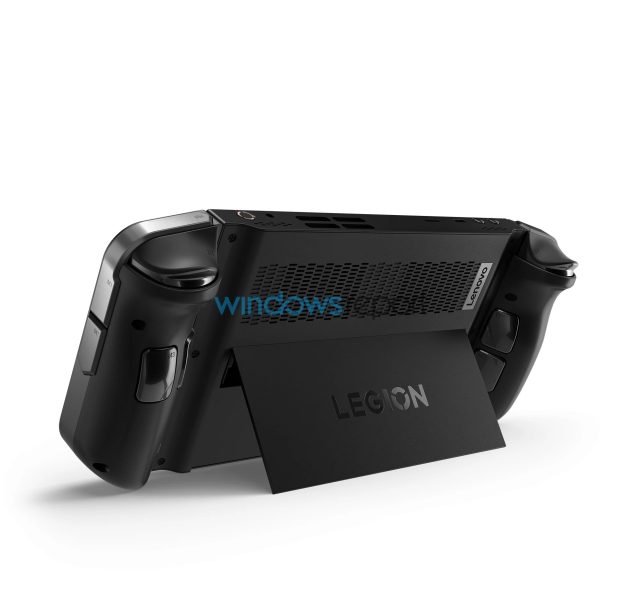 From the pictures, the Legion Pro controllers add four side buttons and four rear buttons to the now-standard set of dual analog sticks, d-pad, face buttons, and shoulder buttons. The right controller also sports the device's only touchpad (down from two on the Steam Deck but up from zero on the ROG Ally), plus what looks like a semi-hidden scroll wheel tucked just below the shoulder buttons. The Legion Pro also reportedly sports an 8-inch diagonal screen, which is 1 inch larger than Valve's and ROG's devices.
The Legion Go leaks come just months after Lenovo abandoned its button- and cooler-packed Legion line of Android-based gaming phones as part of what it said was a "gaming portfolio consolidation." The Windows 11-based Legion Go—which Windows Central says will be based on AMD's Phoenix processors—should have the high-end PC gaming support that the Legion phones lacked, as well as a more market-proven form factor.
Whether Lenovo's effort can compete with the Steam Decks and ROG Allys of the world will of course come down to things like battery life, weight, performance, and that all-important price point. Regardless, we doubt that Lenovo will be the last major PC hardware maker looking to ape the success of the Switch and Steam Deck in the near future.