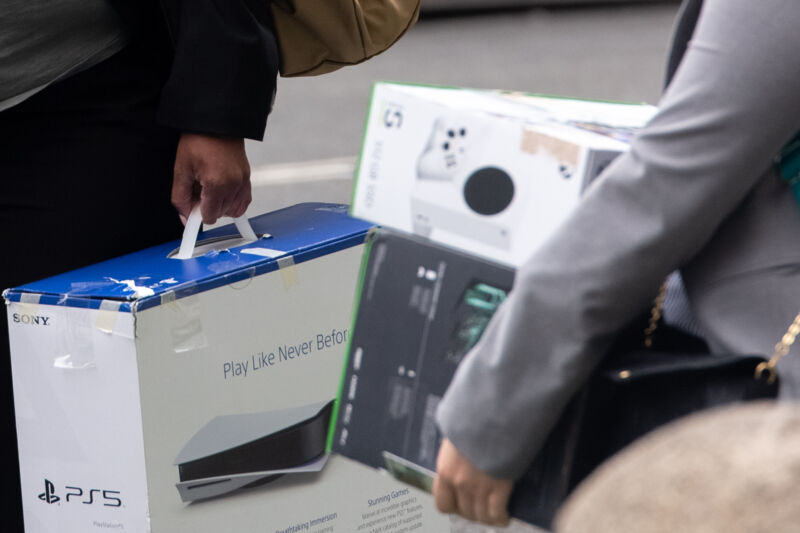 A federal judge in San Francisco today denied the Federal Trade Commission's motion to halt Microsoft's acquisition of Activision Blizzard, ruling that the FTC was unlikely to prove that the merger would "substantially lessen competition."
Judge Jacqueline Scott Corley's decision (PDF) is heavily redacted in sections covering the company's assets and performance in "AAA Content," "Exclusive Content," and "Cloud Gaming Subscription Services," among others. Segments of those redactions were likely seen in earlier filings, which were poorly redacted with a marker and revealed key financial figures.
The FTC's motion for a temporary restraining order and injunction was filed in an attempt to disrupt the deal before its purported July 18 deadline. The FTC had already initiated an administrative action to investigate the deal's effect on gaming markets, but it petitioned the US District Court for Northern California that Microsoft and Activision "may consummate the Proposed Acquisition at any time."
Sections of Corley's rationale for her decision are redacted, but the ruling generally finds that the tech giants' efforts to ensure access to titles like Call of Duty outside Microsoft's ecosystem are persuasive. Corley also finds the FTC's "heavy reliance" on Sony gaming chief Jim Ryan's testimony "unpersuasive." Similarly, testimony by a Harvard economic professor, Robin Lee, that Microsoft would gain more from a Call of Duty exclusive than lose, assumes too many numbers about PlayStation-to-Xbox conversions, Corley wrote.
"In sum, the FTC has not shown a likelihood of success on its theory the merger may substantially lessen competition in the Gen 9 console market because the combined firm will have the ability and incentive to foreclose Call of Duty from PlayStation," the ruling states. The FTC was also found lacking in its arguments about gaming subscriptions, cloud gaming, and other lock-outs.
"To the contrary, the record evidence points to more consumer access to Call of Duty and other Activision content," Corley wrote. "The motion for a preliminary injunction is therefore DENIED."
Brad Smith, vice chair and president of Microsoft, said the company was "grateful" to the court for "this quick and thorough decision." "As we've demonstrated consistently throughout this process, we are committed to working creatively and collaboratively to address regulatory concerns."
An FTC spokesperson told CNBC that the Commission was "disappointed in this outcome given the clear threat this merger poses to open competition in cloud gaming, subscription services, and consoles." In "the coming days," the spokesperson said, the FTC will announce "our next step to continue our fight to preserve competition and protect consumers."
The FTC could obtain a stay against the now-dissolved restraining order by appealing to the Ninth Circuit Court of Appeals, but it only has until midnight on July 14 to do so. Microsoft and Activision still face opposition from UK antitrust regulators, though both sides have agreed to "pause" their legal actions and negotiate after today's ruling.
Bobby Kotick, CEO of Activision Blizzard, emailed employees Tuesday, noting that the US "joins the 38 countries where our deal can proceed."
"We're optimistic that today's ruling signals a path to full regulatory approval elsewhere around the globe, and we stand ready to work with UK regulators to address any remaining concerns so our merger can quickly close."
This is a developing story and will be updated.