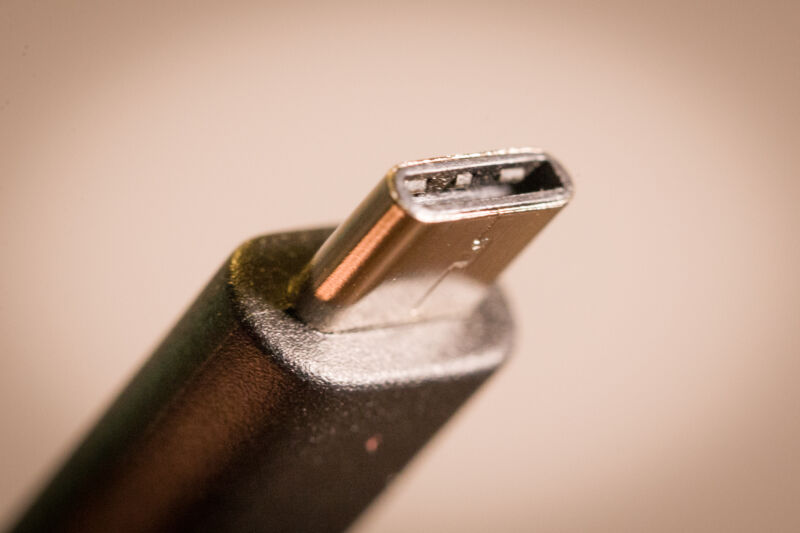 Intel today confirmed key details about the next generation of Thunderbolt cable, Thunderbolt 5. The company expects PCs and accessories with Thunderbolt 5 to release in 2024.
Intel will release Thunderbolt 5 technical collateral and development resources to developers in Q4 of 2024, Jason Ziller, general manager of the client connectivity division at Intel, told reporters ahead of the announcement.
Thunderbolt 5: What's the difference?
The main feature of the new specification is its ability to transmit data at up to 120 gigabits per second (Gbps) while simultaneously receiving data at up to 40 Gbps. The mode, which Intel is dubbing Bandwidth Boost, only occurs when a high-bandwidth display is connected. Intel hasn't publicly specified the display requirements for triggering Bandwidth Boost mode.
Otherwise, the default mode is 80Gbps out and 80Gbps in simultaneously (four 40Gbps logical lanes total). The default mode still offers twice the speed of Thunderbolt 4's 40Gbps.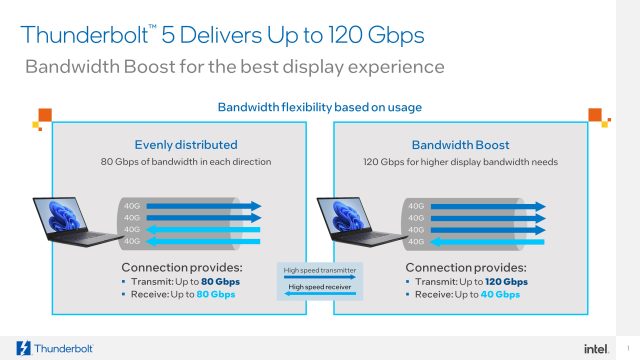 Here's a broad overview, with some help from Intel, of how Thunderbolt 5 compares to other specifications using USB-C.
Thunderbolt 5
Thunderbolt 4
USB4
USB 3.2
Data transfer rate
Up to 120 Gbps
Up to 80 Gbps
Minimum of 20 Gbps, 40 Gbps is optional.

120 Gbps is optional with USB4 Version 2.0

5 Gbps (Gen 1), 10 Gbps (Gen 2), or 20 Gbps (Gen 2×2)
PC video requirements
Dual 6K
Dual 4K
One monitor
One monitor
PC data requirements*
PCIe: 64Gbps
USB 3: 10Gbps**
PCIe: 32Gbps
USB 3: 10Gbps
USB 3: 10Gbps
USB 3: 5Gbps
Required PC charging on at least one computer port
Required up to 140 W, available up to 240 W
Required up to 100 W, available up to 140 W
Available up to 240 W
Available up to 240 W
Required PC wake from sleep when computer is connected to a Thunderbolt dock
Yes
Yes
No
No
Minimum PC port power for accessories
15 W
15 W
7.5 W
4.5 W
PC to PC networking*
64Gbps
32Gbps
N/A
N/A
Intel VT-d-based DMA protection required
Yes
Yes
No
No
*Intel notes that this only refers to maximum theoretical numbers and that actual performance depends on the specific hardware and software configuration.
**Intel notes that this is available with support for up to 20Gbps.
Thunderbolt 5 will support previous versions of Thunderbolt and is based on the USB-IF USB4 Version 2.0, VESA DisplayPort 2.1, and PCI-SIG PCIe 4.0 (x4) specifications.
In a briefing with the press, Ziller confirmed the specification name as Thunderbolt 5. Ziller said Intel wanted to continue the "tradition of keeping the branding, and naming, and labeling as simple as possible." He added that since Thunderbolt 5 requirements are all mostly mandatory, users always know what they're getting, and "you don't have to explain different variations of the capabilities." The note brings to mind the USB-IF's oft-bewildering naming conventions for USB specifications and the recent recommendation to name USB-C products based on their speed (such as "USB 40Gbps").
However, one area where users will encounter different capabilities from one Thunderbolt 5 product to the next is power delivery, as 240 W is optional, compared to the 140 W requirement.
PAM-3
Thunderbolt 5 increases bandwidth by moving from pulse-amplitude modulation-2 (PAM-2) signaling technology to PAM-3, as supported by the USB4 Version 2.0 specification. With PAM-2, each clock cycle has one eye, or opening, providing a 0 or 1 bit, Ziller explained. PAM-3 has two eyes per clock cycle, enabling a little bit of a higher clock rate, he added.
PAM-3 also allows Thunderbolt 5 to run on the same USB-C connectors, motherboards, and passive cables up to 3.56 feet (1 m) as Thunderbolt 4. If you're using an earlier version of Thunderbolt, Thunderbolt 5 will automatically switch to PAM-2 signaling.
120Gbps mode
Thunderbolt 5's support for up to 120Gbps comes from the USB4 Version 2.0 spec and makes Thunderbolt 5 10-times faster than the original Thunderbolt that debuted in 2011. Because of the advanced capability, Intel is marketing the technology as "the best display experience on a single connector," claiming to outperform DisplayPort, a favorite among power users like gamers.
Dynamic display bandwidth management is supposed to enable a Thunderbolt 5 port to detect when a bandwidth-hungry display—such as a high-resolution HDR display or high refresh rate monitor—is connected. Then, it'll automatically switch to transmitting data at up to 120Gbps (across three lanes) and receiving data at up to 40Gbps (via one lane). That means that if you're connecting multiple displays with different resolutions, Thunderbolt will "effectively and efficiently manage all of that and only allocate the bandwidth that's needed for each display." Thunderbolt 4 "doesn't do that quite as effectively," the executive added, so sometimes bandwidth is over-allocated to a display, making things less efficient.
Increased efficiency allows for up to three DisplayPort display streams with Thunderbolt 5 versus two with the previous Thunderbolt generation.
Amid all these improvements, Intel expects Thunderbolt 4 and Thunderbolt 5 to co-exist for a couple of years, with mainstream users opting for the prior-gen solution and creators and gamers being early Thunderbolt 5 adopters. Workstation users are expected to fall next in line.
Creators can leverage Thunderbolt 5 speeds, Intel envisions, to graduate from a pair of 4K, 60 Hz monitors to a trio of 4K, 144 Hz displays or "multiple" 8K monitors, for example. These figures are theoretical but still help illustrate the type of workloads Thunderbolt 5 may end up being relegated to.
Creators could also use the technology to move large amounts of data. Ziller claimed creators' biggest pain point is spending hours at the computer archiving data.
"There's more and more video being shot in 8K and being edited in 4K [and] 6K," Ziller said.
Despite Thunderbolt 5's advancements, there are drives, like many PCIe 5.0 ones, that could exceed Thunderbolt 5's bandwidth.
Gamers, meanwhile, could hit a theoretical refresh rate of 540 Hz with Thunderbolt 5. Ziller also sees gamers moving to the next-gen tech for transporting large game libraries and for "studio-quality capture and streaming or archiving for future playback in real-time."