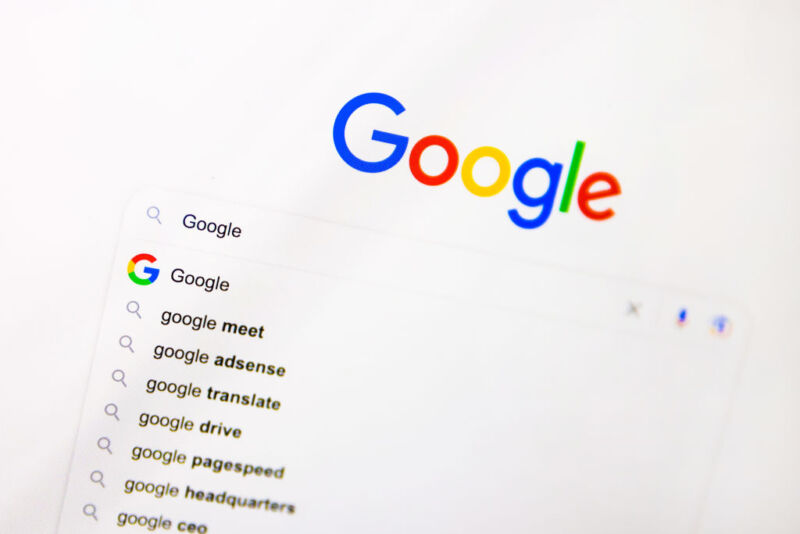 Over the weekend, a US district court judge decided to narrow the scope of the federal government's massive years-long monopoly case against Google.
In his opinion unsealed Friday, Judge Amit Mehta dismissed one of the more significant claims raised in the case brought by the Justice Department and the attorneys general from 38 states that alleges that Google rigged search results to boost its own products over those of competitors like Amazon, OpenTable, Expedia, or eBay. Mehta said that these claims were "raised only by the Colorado plaintiffs" and failed to show evidence of anticompetitive effects, relying only on the "opinion and speculation" of antitrust legal expert Jonathan Baker, who proposed a theory of anticompetitive harm.
"Simply put, there is no record evidence of anticompetitive harm in the relevant markets" resulting from Google allegedly limiting competitors' visibility in search results, Mehta said.
Mehta said that now the biggest questions left to be decided at an upcoming September 12 trial have to do instead with Google's agreements with both Android and various browsers to install Google as the default search engine. These agreements potentially allow Google to dominate a significant chunk of the mobile search market, the government has argued. Data firm Similarweb has estimated that Google receives 94 percent of search engine traffic on mobile devices, The New York Times reported.
Currently, plaintiffs and Google disagree over how much search traffic Google receives as a result of being the default search engine in browsers (like Chrome and Safari) and on Android devices—or whether a rival would capture significantly more traffic if they were instead used as the preinstalled default. Mehta left this to be argued at trial, where "Google will have the opportunity to proffer a procompetitive justification" for these seemingly exclusive contracts.
In a blog, Google's president of global affairs and chief legal officer, Kent Walker, celebrated the search giant's win.
"We appreciate the Court's careful consideration and decision to dismiss claims regarding the design of Google Search," Walker said. "Our engineers built Search to provide the best results and help you quickly find what you're looking for. People have more ways than ever to access information, and they choose to use Google because it's helpful. We look forward to showing at trial that promoting and distributing our services is both legal and pro-competitive."
The Justice Department and Baker did not immediately respond to Ars' request for comment.
On top of dropping claims about the anticompetitive design of Google search results, the court "also dismissed allegations about Google's Android Compatibility Agreements, Anti-Fragmentation Agreements, Google Assistant, Internet of Things Devices, and Android Open Source Project," Google's blog noted.
The US government initially brought the antitrust case against Google in 2020, and after years of court filings, the upcoming trial is not expected to be decided quickly—even with the scope significantly narrowed.
Colorado Attorney General Phil Weiser told Ars that the state is not necessarily disappointed in Mehta's ruling. Google at least failed in its efforts to stop the trial from proceeding.
"I am pleased that the multistate attorneys general lawsuit challenging Google's monopoly in the search engine market and search advertising will proceed to trial in September," Weiser said in a statement provided to Ars. "We will continue to evaluate how to best press forward and establish Google's pattern of illegal conduct that harms consumers and competition."