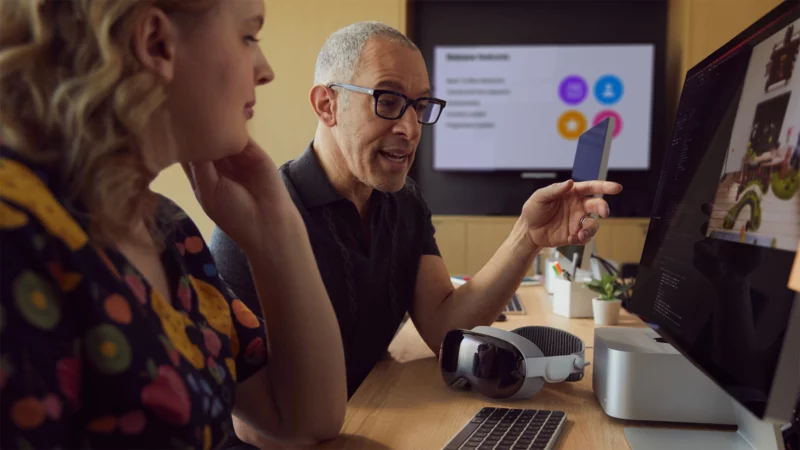 Apple needs third-party apps for Vision Pro when it launches next year, but most developers don't have the headset yet. That would seem at first glance to be a conundrum, but on Monday, Apple opened up three different ways app developers can start testing their apps on Vision Pro hardware well before the product launches to the public.
None of them are surprises, of course—Apple previously laid out these plans at WWDC. But now developers can actually start signing up for and using these resources.
It has been possible to get at least some serious work done since Apple made a beta release of Xcode available with support for visionOS. That version of Xcode (Apple's IDE for Macs that is required to build apps for the company's various platforms like iOS) includes a visionOS Simulator that presents work-in-progress visionOS apps in a virtual 3D space navigable with keyboard and mouse or trackpad controls.
In theory, what works in the visionOS Simulator will often work fine on actual hardware, but there are, of course, additional complexities, especially with something like Vision Pro. That's where these three newly launched programs come in.
Apple Vision Pro developer kits
First off, developers can apply to be sent Vision Pro developer kits. They'll be sent actual Vision Pro hardware on loan, and they'll be offered help getting it set up, regular check-ins with "Apple experts for UI design and development guidance," and two code-level support requests.
It seems unlikely that everyone who wants a developer kit for any reason will get one, though. Apple is holding the keys and (as is its custom) isn't being all that specific about what will get some developers access over others. Here's what the company writes about it on its developer website:
You'll need to be an Account Holder in the Apple Developer Program, provide details about your team's development skills and existing apps, and agree to the terms and conditions. Applications will be reviewed and priority will be given to applicants creating an app that takes advantage of visionOS features and capabilities.
We're not sure yet whether these kits will be free. Apple's developer kit program for the first Apple Silicon Macs required developers to pay a fee for access, even though the device in question still had to be returned after a period of time.
Apple Vision Pro compatibility evaluations
Alternatively, developers can simply send their apps to Apple so Apple employees or contractors can test the apps on their behalf.
Once developers have gone through a checklist of pretty obvious basics, like making sure the app actually launches, they can submit the app to Apple to test on actual hardware. Developers will get a list of issues back (if there are any) along with relevant screenshots and logs.
Apple's testing group will give an evaluation "within a few weeks," and requests will be handled on a first-come, first-serve basis.