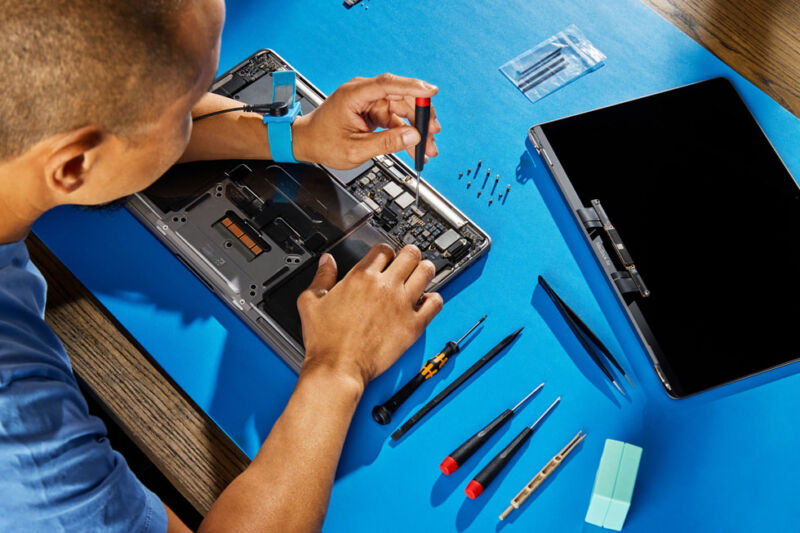 Somewhere, ol' Beelzebub is putting on his thickest coat because Apple has endorsed a right-to-repair bill, suggesting hell has frozen over. In a letter dated August 22, Apple showed its support for California's right-to-repair bill, SB 244, after spending years combatting DIY repair efforts.
As reported by TechCrunch, the letter, written to California state Senator Susan Eggman, declared that Apple supports SB 244 and urged the legislature to pass it.
The bill requires vendors of consumer electronics and appliances to make sufficient documentation, parts, and tools for repairs available to customers and independent repair shops. The big exceptions are video game consoles and alarm systems.
The bill has been praised by right-to-repair activists like iFixit, who says the bill goes further than right-to-repair laws passed in Minnesota and New York. Minnesota's law was considered the most all-encompassing right-to-repair legislation yet. Some activists, though, lamented that companies aren't required to sell parts and tools for devices not actively sold. California's bill, however, keeps vendors on the hook for three years after the last date of manufacture if the product is $50 to $99.99 and seven years if it's over $99.99.
The bill also allows a city, county, or state to bring a related case to superior court rather than only a state attorney general, as noted by iFixit's blog post Wednesday.
Apple's stipulations
According to what appears to be a PDF of Apple's letter shared by sites including The Verge, Apple decided to support the SB 244 bill since it has requirements around "individual users' safety and security, as well as product manufacturers' intellectual property." It's signed by D. Michael Foulkes, director of state and local government affairs at Apple.
The letter notes that Apple was able to "engage" with the senators and staff on the bill.
It goes on to list the tech giant's conditions for continued support of the bill. Those conditions include that the bill not feature a requirement for manufacturers to enable repair providers to disable device security features.
Apple's letter also asked that the bill "focus on requiring manufacturers obligations to provide the documentation tools, and parts to enable the repairs performed by authorized repair channels, as opposed to a broader undefined scope of repairs." Apple also wants repair providers to mention when they're using "non-genuine or used" components.
The bill, as written, also requires non-authorized repairers to provide written notice of their lack of official vendor approval.
Elizabeth Chamberlain, director of sustainability at iFixit, told Ars Technica that while disclosing the use of third-party parts is reasonable, she's concerned that it "supports unnecessary fear-mongering around used and third-party parts."
"I also worry that lumping used and third-party parts together will contribute to further confusion. Apple's 'unable to verify' warnings already blur the line between those categories," she added.
California's final bill "should balance device integrity, usability, and physical safety" with the right to repair, Apple's letter reportedly says.
Apple flip-flops
Apple's letter is a reverse-course on the battle against right-to-repair efforts that it's been fighting for a decade, as noted via Repair.org Executive Director Gay Gordon-Byrne through a US PIRG press release Wednesday. That includes in California, where in 2019, The Verge and Motherboard reported that an Apple representative met with legislators, encouraging them to kill a right-to-repair bill over alleged consumer safety concerns. That bill was pulled soon after.
In 2017, then-Nebraska state Senator Lydia Brasch was quoted as saying an Apple representative told her that if Nebraska passed its right-to-repair bill, it would be the only state to do such a thing and become a "mecca" for hackers. In 2016, there were concerns of anti-repair behavior via "Error 53," which could befall iOS devices that underwent an unauthorized repair.
Despite its past, Apple is sharing support for a California right-to-repair bill that it, apparently, deems fit. Ironically, Apple's letter attempts to frame itself as a bit of a right-to-repair leader, pointing to its Authorized Repair Provider Program launched in 2016, the Independent Repair Provider Program it debuted in 2019, and its Self-Service Repair Program introduced in 2022. The latter, however, is far from covering all of the consumer electronics Apple makes and has its own criticisms.
As noted by TechCrunch, this week it's rare to see a vendor speak out on the right to repair rather than speaking through an industry group. No other big name in tech has shared public support for SB 244.
So why now?
Nathan Proctor, senior director of US Public Interest Research Group's (PIRG's) Right to Repair Campaign, wagered a guess to Ars:
My best guess is that it's because we were able to pass a bill in Minnesota, and it has become clear that we have the ability to pass these bills. At that point, you can either try to have some input, maybe get some good PR while you are at it … because you can't stop us. We are glad that the company has decided to do the right thing, whatever the reason.