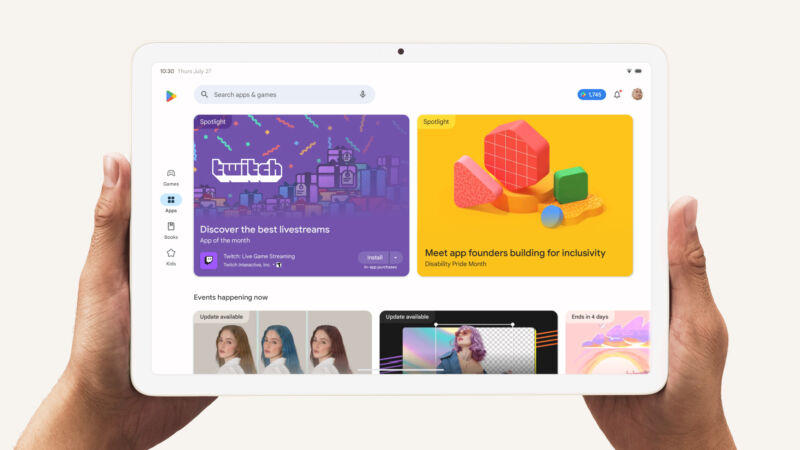 Following the release of the Pixel Tablet and Pixel Fold, Google wants developers to take big-screen apps more seriously. Asking nicely rarely works, so Google is changing the Play Store ranking algorithms to increase the visibility of apps that better support large screens.
Google's blog post says:
Apps and games that adhere to our large screen app quality guidelines will now be ranked higher in search and Apps and Games Home. This helps users find apps that resize well, aren't letterboxed, and support both portrait and landscape orientations. Editors' Choice and other curated collections and articles will also consider these criteria going forward, creating new featuring opportunities for optimized apps.
The large screen app guidelines have various tiers, but they recommend keyboard, mouse, and stylus support, a two-pane tablet layout, drag-and-drop support, and foldable display awareness. The post also reiterates some improvements that Google has already rolled out, like showing tablet screenshots to tablet users and downranking apps that crash a lot.
The Play Store demanding developers make tablet apps is kind of ironic because the Play Store itself isn't all that great on big-screen devices. We complained about this app a lot in the Pixel Fold review, noting that it wasn't much more than a phone app with a navigation rail bolted to the side of it. For something that is the flagship Android app—everyone has to use the app store, after all—we felt the Play Store should have been leading the big-screen charge rather than lagging behind. Thankfully, Google says it's working on improving the Play Store and showed off some progress on big-screen UI improvements.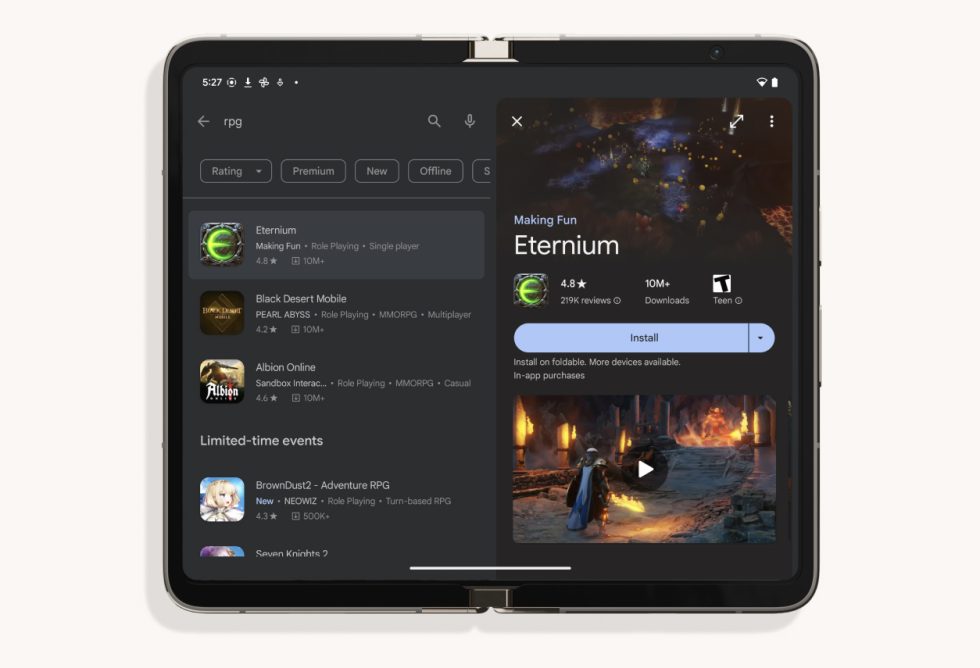 The big news is that the search results will switch to a two-pane layout on big screens. The search result list will live on the left-hand side, and tapping on each result will load a details page on the right. Previously, the results page was a stretched-out phone interface, with results on the left and nothing on the right. It would be nice if the top charts got this two-pane design, too, but that hasn't changed yet.
Sadly, the Play Store home screen is still just the phone app and side navigation. The phone origins of the app means the featured app thumbnails scale up to a giant size, especially on the Pixel Tablet. Because of the scaling issues, tablets and phones show about the same about of data on the home screen.
Google says these changes are "just the beginning of our journey in creating a tailored Play Store experience for large screens." So hopefully, Google's developers will follow Google's developer guidelines soon.