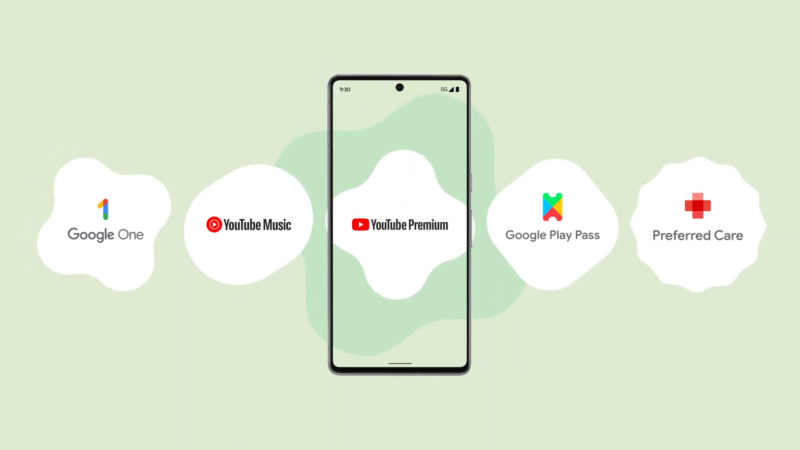 Google's "Pixel Pass" payment plan has perished. The company is shutting down the all-in-one subscription service that let customers pay a monthly fee for a new Pixel Phone and a bunch of Google subscription services like YouTube Premium. When the service launched in October 2021, Google said that every two years on the Pixel Pass would make you eligible for a brand new phone. But the service only lasted 22 months, so no one will be eligible for that phone upgrade.
Pixel Pass was introduced alongside the Pixel 6 launch. For $45 per month, you would get a new Pixel 6, YouTube and YouTube Music Premium, 200GB of Google One storage, "Preferred Care" coverage for your phone, and a "Google Play Pass," a Netflix-style all-you-can-eat subscription for Play Store apps and games. Google said you could "save up to $294 over two years" compared to buying everything individually. A more expensive $55-per-month plan got you a Pixel 6 Pro instead, and there were even plans that included Google Fi Wireless cellular service.
Google explained its latest product shutdown on a support page. "Beginning August 29, 2023, Pixel Pass is no longer offered for new Pixel purchases or renewal," the company said.
The support page FAQ asks, "Why is the Pixel Pass being discontinued?" but Google doesn't answer its own question, saying only, "We offer the best value of our hardware products and give users the flexibility to purchase their favorite services. We continue to evaluate offers based on customer feedback and provide different ways for them to access the best of Google."
Besides the questionable popularity of a service like this, Google has been raising a lot of its subscription prices lately, and the Pixel Pass's discounts ran counter to those price increases. YouTube Premium has gone up $2 since the Pixel Pass launched, and while Google has raised storage prices for business Workspace customers and Google Cloud, it hasn't gone after personal Google One accounts yet.
The terms of the Pixel Pass were for two years, and paying the subscription for that time would pay off your Pixel phone. Early cancellation meant a big final bill for the remainder of the phone cost. That won't happen here, though—while new signups are no longer allowed, existing users will be able to finish out their two-year term. The end of the term was supposed to mean re-upping with a shiny new device, but Google now says, "By the end of the 2 year term, you can't upgrade to a new phone with Pixel Pass."
Once the two years are up and your Pixel Pass subscription is dead, there's still the question of what to do with your subscriptions to the still-surviving Google services. After your two years, Google says, "The included Google subscriptions, such as Google One, Google Play Pass, and YouTube Premium, automatically renew each month until canceled. You'll receive a monthly bill for Google One, Google Play Pass, and YouTube Premium at the current discounted rate, which is visible in the email sent to you on August 29, 2023 with the subject line, 'An important update on Pixel Pass.' If you are using your Pixel Pass device on Google Fi Wireless, the $5 service discount to your Google Fi Wireless plan also ends."
To take some sting out of the move, Google is offering a "$100 loyalty reward credit" for active Pixel Pass subscribers. You can use it for $100 off a new Pixel phone from the Google Store or Google Fi, and it expires in two years.