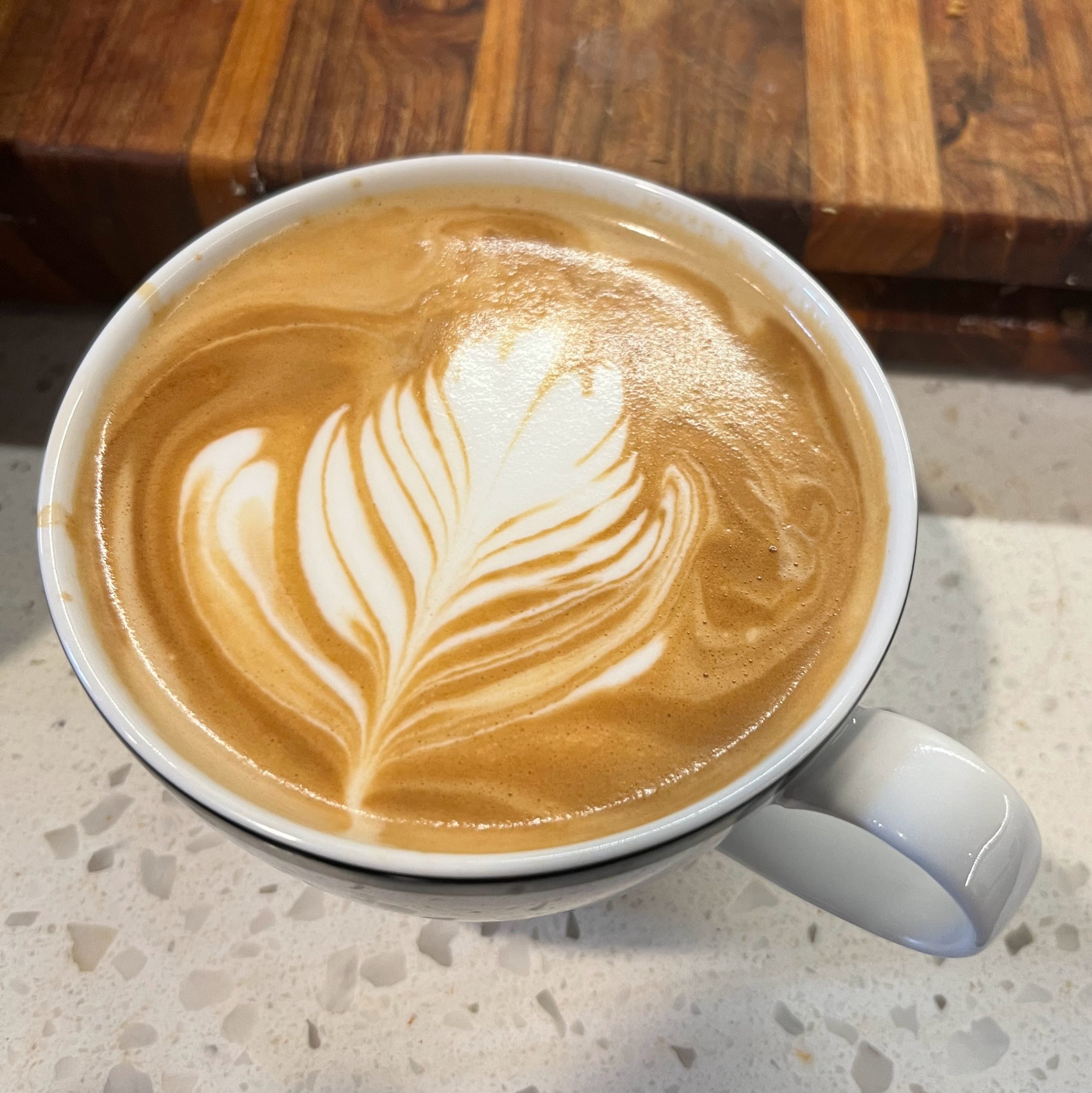 If you're like our staff, you'll understand that good cup of brewed coffee is a requirement every morning. Whether it's a simple French-pressed brew or an espresso-based drink with complex flavors and aromas, coffee has not only provided the fuel to get the Ars Technica stuff through our daily tasks but it's become a ritual that helps us start the day anew and grounds us—pun intended—amid the chaos of the world.
We asked the Ars staff to show off their coffee-making setups and tips below—they range from low to high tech, from hand-cranked grinders to automatic machines and all points in between, but all these methods have one thing in common: They make awesome coffee.
John Timmer's setup: Flavorful French press method
Buy The John Timmer French Press Setup
What I want from coffee-making equipment is purely a function of what I'm looking for from coffee. And that is as much flavor as you can possibly extract from beans that are roasted so dark that they risk absorbing all light and becoming a black hole. I want a thin sheen of random organic molecules floating on top of an explosion of bitter, complex flavors.
What that has meant in practice is that the beans matter considerably more than the equipment. While my options are somewhat complicated by a medical requirement to drink decaf, many purveyors of fine beans offer a decaf French Roast, which suits my needs well. If you happen to be in New York City near one of the instances of a small chain called Union Market, their Prospect Park Blend is usually (though, frustratingly, not always) even better.
Extracting the flavor those beans contain requires three pieces of equipment.
One is something to heat the water, and all kettles are functionally equivalent. Another is something to brew the coffee in. I'm happy with a French press, partly because it's simple and partly because it allows me to give the beans lots of time to give up their flavor to the water. Again, all French presses are functionally equivalent; mine's from Bodum, but it doesn't really matter.
Then third, there's the grinder. French presses are meant to use a rougher grind to allow their relatively coarse filter to trap all the grinds at the bottom. But that means less coffee surface in contact with the water, which runs counter to my goals. So I use a standard spinning-blade grinder and make things finer than I should. I prefer one from KitchenAid that lets me lift a small cup containing the coffee away from the electricals and dump the contents directly into the press. (KitchenAid also makes a new burr grinder.)
Does every single cup of coffee I make end up having a dark sludge of fine grounds swirling around the bottom? Absolutely. But it's a small price to pay.
Beth Mole's setup: Easy cleanup with Aeropress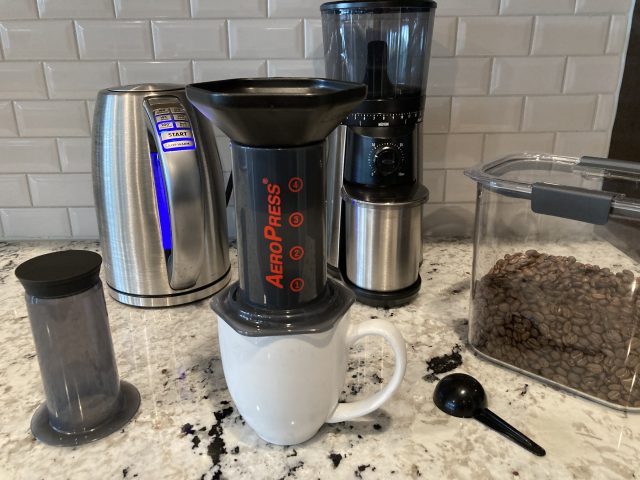 Buy The Beth Mole AeroPress Setup
For a long time, I was all about French press coffee. But last year, after I started craving a cleaner cup, my significant other surprised me with an Aeropress—and I haven't looked back.
At first, I was a little skeptical. With a column, plunger, filter cap, paper filter, and funnel, I thought it would be an annoying early-morning fuss compared to the simple press. But it's not.
Setup is a snap; the plunger essentially cleans the column with each go, and shooting out a compressed puck of spent coffee grounds is unexpectedly satisfying after years of cleaning oily, messy grounds from the French press beaker and mesh filter.
More importantly, the coffee is excellent. It's clean and flexible. With different starting amounts of coffee, grind sizes, and steep times to play with, you can individualize each cup.
Our 1.5 L French press still has a role in our house for batch brewing, but as I'm a one- to two-cup-a-day person, the Aeropress is perfect for most days.
In addition to the Aeropress, my setup includes locally roasted coffee beans, an OXO Conical Burr Coffee Grinder, and a Cuisinart Electric Kettle.
Eric Bangeman's setup: Strong espresso drinks
Buy The Eric Bangeman Espresso Setup
I love coffee. It is literally my favorite thing to drink. Unfortunately, my body doesn't love caffeine the way it used to when I was younger. I still drink at least a liter of coffee daily, but it's mostly decaf.
I also love my coffee dark and strong. After some experimentation, I've landed on an ideal setup for my wife and me.
My main machine is a Jura Capresso D6. It's the least-expensive machine in their lineup, and for me, it's worth every cent. Water goes in the left side, beans in the right, and a dial on the front lets you adjust strength and volume based on your preferences. I keep it loaded with decaffeinated Sumatran roast. (The Jura Capresso D6 is no longer available, and the least-expensive model in Jura's current lineup is the ENA 4.)
There's also a built-in milk steamer which is just all right. I don't use it, but my wife prefers a standalone steamer.
The D6 replaced a Jura Capresso E8 I bought refurbished for $450 in the early 2000s but died in 2021. Over the roughly 20 years of ownership, I probably spent around $500 on repairs. (The Capresso E8 has been discontinued, but Jura has a newer E8 model.)
To get some caffeine into my coffee, I have a Nespresso D110 Citiz, which I picked up on Craigslist for $40. I buy Nespresso Napoli capsules, which score a 13 on Nespresso's 13-point scale for darkness of the roast, along with a couple of sleeves of Cioccolatino or Chiaro pods.
With each order, Nespresso includes a Mylar bag with a UPS label so you can ship the used pods back to them for recycling.
To get my morning cuppa, I do three 4.5-ounce shots from the Capresso D6 on the Coffee setting and a single shot from the Nespresso for caffeine. Rinse, lather, and repeat.
Chuong Nguyen's setup: Saving time with pods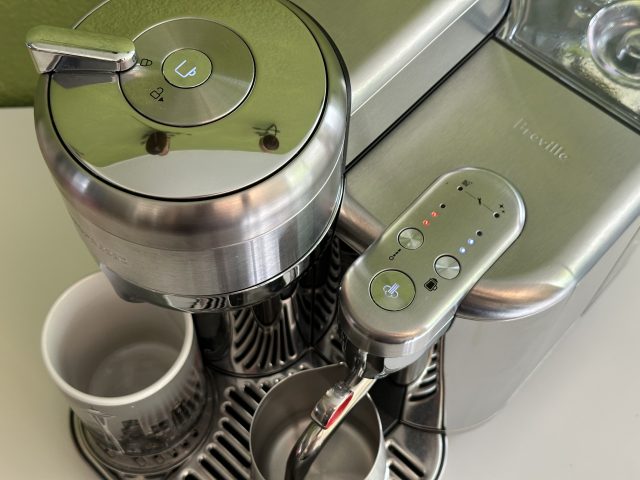 Buy The Chuong Nguyen Coffee Pods Setup
Unlike my fellow colleagues, I hate to admit that my caffeine palette isn't quite as refined. Perhaps it's just laziness on my part or a belief that coffee is about the caffeine and not about the taste. Whatever it is, I started my home brewing exercise, if you can even call it that, about a decade ago with instant coffee. The ease at which I can obtain some of the aromas and about 75 percent of the caffeine content as a brewed cup with about 10 percent of the work appealed to me. As a person who's useless in the morning, I can't be bothered with cumbersome brewing processes and recipes.
I eventually made my way to Nespresso pods. My journey into the world of Nespresso began with the company's original capsules, which produced espresso-like shots. I selected my first Nespresso machine partly because of its heft, which I equated as more durable than the plastic construction of systems made by Nespresso. The metal-clad KitchenAid Nespresso also had a pleasing aesthetic; it looked retro and blended well with other KitchenAid appliances on my countertop. When Nespresso launched its line of machines that can make coffee in addition to Nespresso, I eventually upgraded to a polished chrome system made in collaboration with Breville called the Vertuo Creastista.
The Breville Creatista is a versatile system that can brew up to six different cup sizes depending on the pods you select, and a steam wand makes latte drinks a breeze. It's an upgrade to my instant coffee fix, with richer flavors and aromas. I'd even argue that Nespresso's system gets me to about 90 percent of a true cup of fresh pour-over coffee but without the hassle of having to own a grinder, digital scale, and fancy glass instruments.
My favorite pods for this system include single-origin coffee pods from Costa Rica and Mexico. For pumpkin lovers, there's even a special limited-edition flavor for fall to rival Starbucks' pumpkin spice.
Kevin Purdy's ode to caffeine: Coffee for two is brewing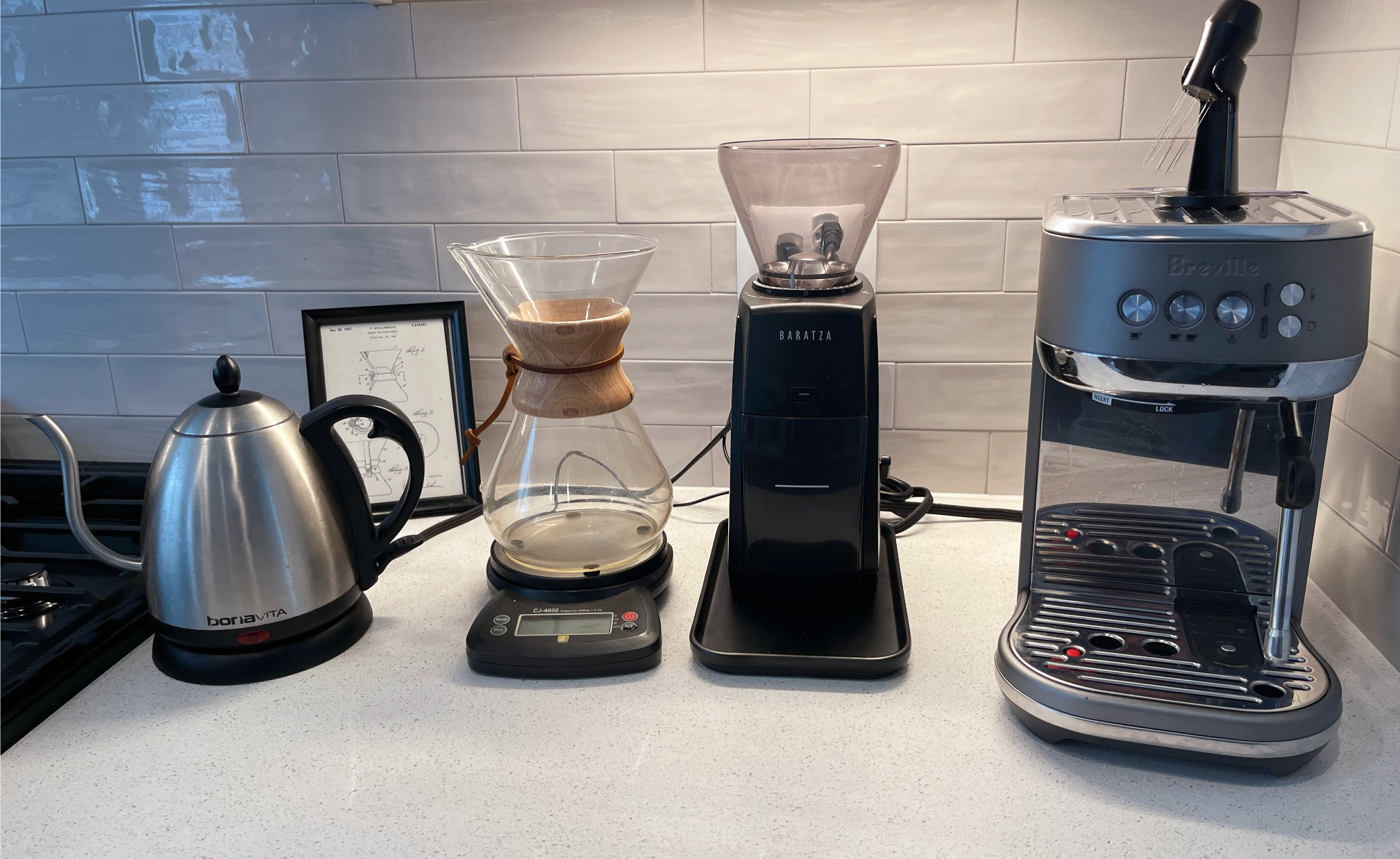 I bought my first espresso machine from a seller on Facebook Marketplace about six months ago. After the awkward small-talk/Venmo/handoff ritual, the seller asked if I had any questions. "What did you upgrade to?" I asked. He gave me a kind of fellow traveler look, then detailed the E61 machine I was helping to finance.
Buy The Kevin Purdy Coffee For Two Setup
Once you're on the home espresso path, there are few roads that go back. My secondhand Breville Bambino Plus works great, and I keep getting better with it. It pulls decent straight shots with medium and dark roasts, and the steam wand is good enough for those with a lot of technique to learn. I consistently make better drinks than I can buy within walking distance of my house, which might have been the original point.
So there is no reason I will need to upgrade. The grinder and choice of beans have far more impact on taste than the steam machine. In fact, a higher-end machine introduces only more variables to tame, namely temperature and pressure. And yet, I know in my bones that when I go to sell my Bambino Plus, I, too, will be waiting for the slightest opening to tell the latest traveler about where I'm headed in my journey.
Below is the gear I use to make espresso drinks, along with Chemex batches for two or more people, and, when I'm traveling or just feel like distracting myself, hand-ground AeroPress: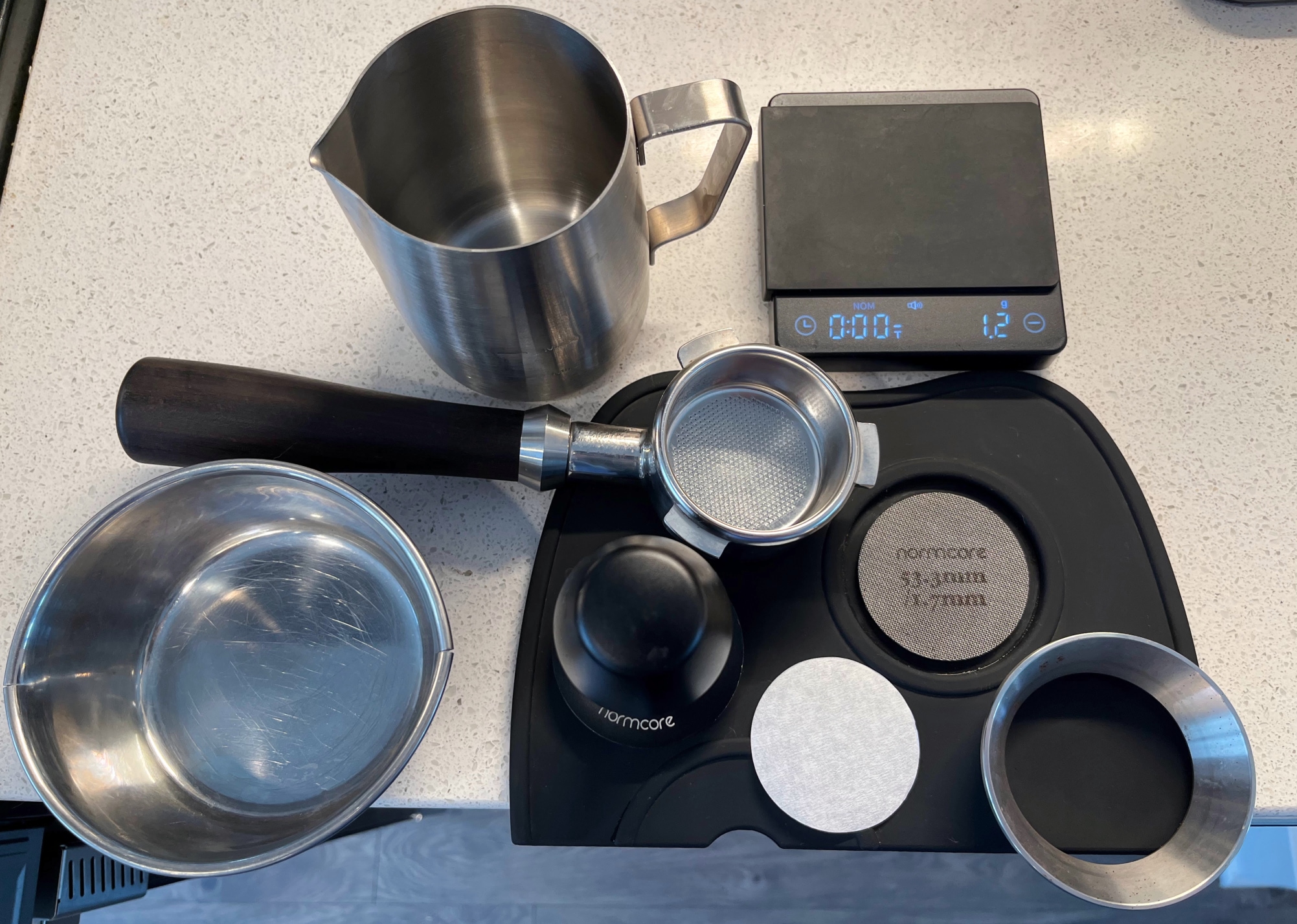 Little espresso things for dialing in shots and losing all perspective, most of them provided gratis by the former Bambino owner:
Normcore spring-loaded tamper, puck screen, and WDT tool.
Bottomless portafilter, of unknown brand.
Tamping mat, of random Amazon brand.
Collar/dosing funnel.
Bottom paper filters.
Milk frothing jug (standard with Bambino).
Tiny 2s digital scale, with 0.1g resolution, for both dosing coffee and measuring shot output.
A bent cat feeding dish used as a makeshift knock box for spent pucks. You can make out its impact on the portafilter.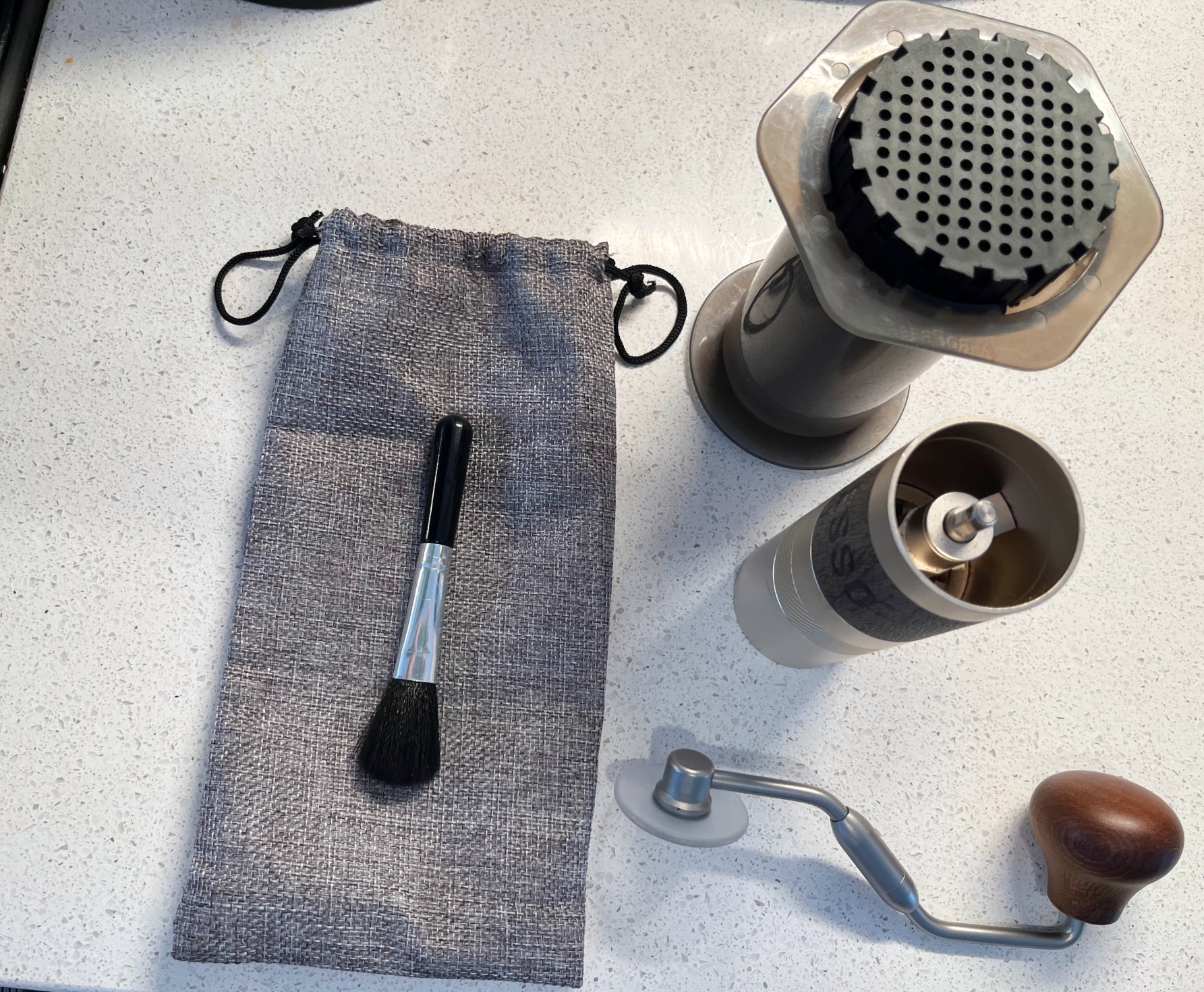 Buy The Kevin Purdy Travel-Ready Setup
To get my caffeine fix while traveling, for the last 15 years, I have been swapping out my Bambino Plus for an AeroPress.
Along with the AeroPress, you'll also want to measure your beans and weigh them using a scale. A compact digital scale would fit the purpose of frequent travelers.
And to extract the flavor and caffeine from your beans, a hand grinder does the trick for me, though you could swap this out for a compact electric grinder.
This story was written with contributions from John Timmer, Eric Bangeman, Beth Mole, and Kevin Purdy. Ars Technica may earn compensation for sales from links on this post through affiliate programs.
Listing image by Kevin Purdy