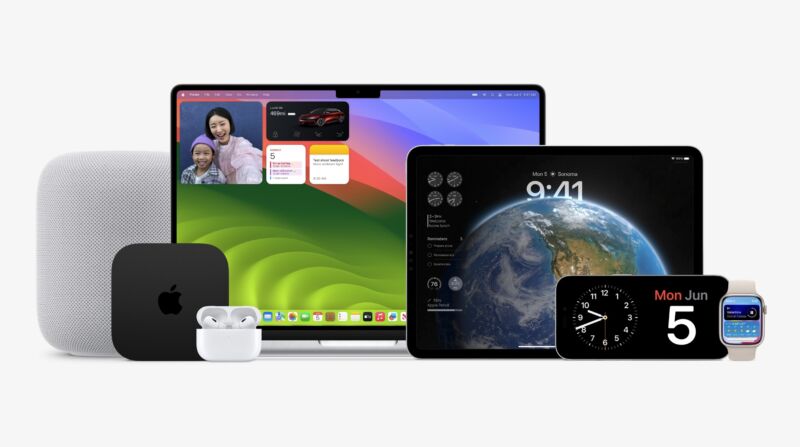 Apple is officially releasing the first public betas of iOS 17, iPadOS 17, watchOS 10, and macOS 14 Sonoma today, a little over a month after releasing the first developer betas at its Worldwide Developers Conference.
Although it's not as big a milestone as it has been in past years—developer betas are now available to anyone who signs up for a free Apple developer account, and the builds released today are essentially identical to the third developer betas Apple released last week—the public beta period typically signals that Apple's newest OSes are approaching the level of stability and polish needed for a public release.
To get the new iOS or macOS betas, first sign up for Apple's public beta software program with your Apple ID. Then, on a compatible device, navigate to the Software Update page in the settings and opt into the beta of your choosing (there's also a separate beta track available for those continuing to test iOS 16 and macOS 13 updates). Per usual, you should make sure you have current backups before you upgrade, and don't install beta software on any devices you rely on daily since the only way to go back to non-beta software is a full reset in recovery mode.
The iOS 17 update will run on an iPhone XS, iPhone XR, or anything newer. The iPadOS 17 update requires a 6th-gen or newer iPad, a 5th-gen or newer iPad mini, a 3rd-gen or newer iPad Air, or a 2nd-gen or newer iPad Pro. The macOS Sonoma update generally requires an Intel or Apple Silicon Mac introduced in 2018 or later. WatchOS 10 and tvOS 17 will run on any devices compatible with watchOS 9 or tvOS 16.
For those who install the betas, expect a relatively light year for major new features as Apple turns more of its development efforts to the new visionOS and developer tools for the upcoming Vision Pro headset.
All of the operating system updates include improved autocorrect, new iMessage and AirDrop features, separate profiles for Safari, an Enhanced Private Browsing feature, and the removal of "Hey" from the "Hey Siri" activation phrase. The iOS update includes a new always-on smart display mode called StandBy for when your phone is plugged in and charging on a stand. Both iOS and iPadOS are also getting a new journaling app called Journal. The iPad will get the customizable lock screen features Apple introduced in iOS 16 last year, and Sonoma includes redesigned desktop widgets and the ability to sync iPhone widgets with your Mac, plus a new "game mode" and tools to help developers easily port their Windows games to the Mac.
Some features available in the betas may not be available in the first "official" release of the operating systems this fall, and some previously announced features won't be available in the betas yet, either. At this point, it's common for Apple to hold a handful of announced features back for a later update to the operating system, giving the company more time to work on them without holding up the release of the rest of the operating system. The collaborative Freeform app, for example, was announced at WWDC in the summer of 2022 but was not added to the operating system until December 2022, several months after the initial releases of iOS 16 and macOS 13 Ventura.
Based on past years, we'd expect the iOS 17 update to roll out with Apple's next-generation iPhones in September. The macOS update is more likely to be released in October, and iPadOS could be released in either September or October, depending on how far along it is (Apple delayed the release of iPadOS 16 last year, and the first version available to the public was actually iPadOS 16.1).