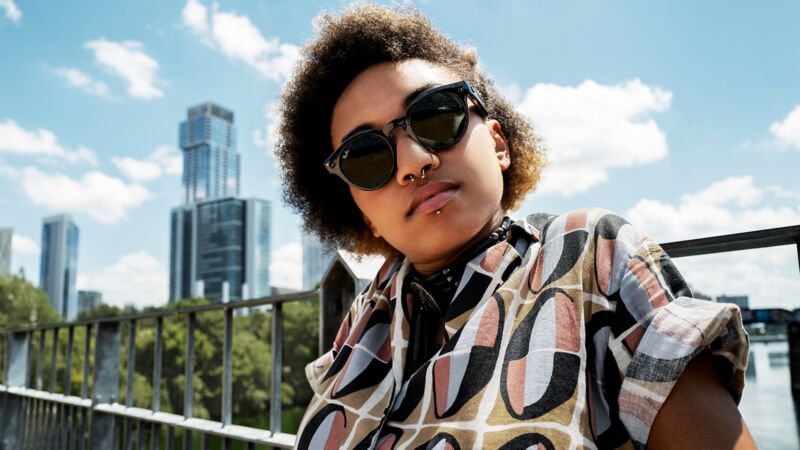 Even the people who spent money on Meta's Ray-Ban "Stories" smart glasses don't want to use them. That's according to a report this week from the Wall Street Journal (WSJ), citing internal data and claiming to detail the letdowns that led to hundreds of thousands of Stories gathering dust.
Meta (then called Facebook) released Ray-Ban Stories in 2021. The company's first mass-market smart glasses include a Snapdragon chip, two 5 MP front-facing cameras for snapping pictures or video, and speakers for listening to audio. Ray-Ban branding comes courtesy of the glasses' partnership with Ray-Ban parent company EssilorLuxottica (which also makes Oakleys and claims numerous luxury brands, including Burberry, Prada, Swarovski, and Tiffany & Co.).
But according to a February corporate document WSJ says it saw, under 10 percent of Ray-Ban Stories ever purchased are in active use. The publication reported that Meta sold 300,000 Stories, but there are just 27,000 monthly active users of the product.
Because of their subtle looks and light weight (they're supposed to be just 5 grams more than your average Ray-Bans), the glasses are not as immediately offensive as some other face-worn tech, like Google Glass. And you'd think that after paying around $300 (the specs started at $299 upon release and start at $209 as of this writing), owners would make a point of using them.
So why don't people like using their Stories? WSJ's report didn't go into details, but it pointed to problems with the smart glasses' voice commands, audio, connectivity, and "some of the hardware features, including battery life."
Those complaints align with some reviews of the product. For example, PCMag said Stories' speakers lack bass, while Forbes reported that it's nearly impossible to hear phone calls over the glasses unless you're in an "isolated environment."
PCMag's review also noted that the glasses, which are supposed to last up to six hours before needing a charge, went from 100 percent to 43 percent after 90 minutes of using them to play music at max volume and take "multiple photos and videos."
PCMag, Forbes, Android Police, Laptop Mag, and Android Police all described the camera performance as OK at best, if not subpar, with low-light performance being a common complaint.
Not only are purchased Stories being abandoned on shelves and in drawers, but they're apparently being returned, too. The wearable is reportedly seeing a 13 percent return rate.
"We'll… need to better understand why users stop using their glasses, how to ensure we are encouraging new feature adoption, and ultimately how to keep our users engaged and retained," the Meta document said, according to WSJ.
It was always going to be difficult for Meta to convince people to buy Stories, a product in an emerging category of technology. The claims in WSJ's report, though, underscore that the adoption challenges don't end at the cash register. Based on the report, Meta's product has failed to convince even owners of the glasses that they should use them.
WSJ said Meta's remediation efforts include plans to boost device quality and feature discovery.
More Stories… still
Some may be discouraged by the waning interest in Stories or even wonder if there's hope for consumers to maintain long-term interest in smart glasses. But despite Stories' lackluster performance thus far, Meta is reportedly continuing with plans for a second-generation pair that will arrive this fall or in the spring, "people familiar with the matter" told WSJ.
The company doesn't yet seem eager to rescind dreams of being a futuristic hardware player, and it's willing to eat the costs. Meta's Reality Labs division, where Stories sits, had operating losses of $7.7 billion from January 1, 2023, to June 30, 2023, according to Meta's Q2 earnings report (PDF). In that report, Meta said it expects operating losses for the division to "increase meaningfully." But failing to get owners of your most affordable hardware to use said hardware isn't moving the division in the right direction.
Meta will likely look to improve the features people are complaining about, like the camera and battery life. But there isn't much the metaverse-loving company can do about some of the other top concerns about the product.
First, the smart glasses aren't augmented reality glasses, a product that various companies, from Google to Apple and Meta itself, have proclaimed to be excited about. Second, the glasses are loaded up with a camera and microphones, and they come from a company with a bad reputation when it comes to privacy. Better hardware and feature previews don't address some of the inherent worries associated with a Meta wearable.
Meta declined to comment on WSJ's report, any plans to improve the Stories experience, or its AR plans to Ars Technica.