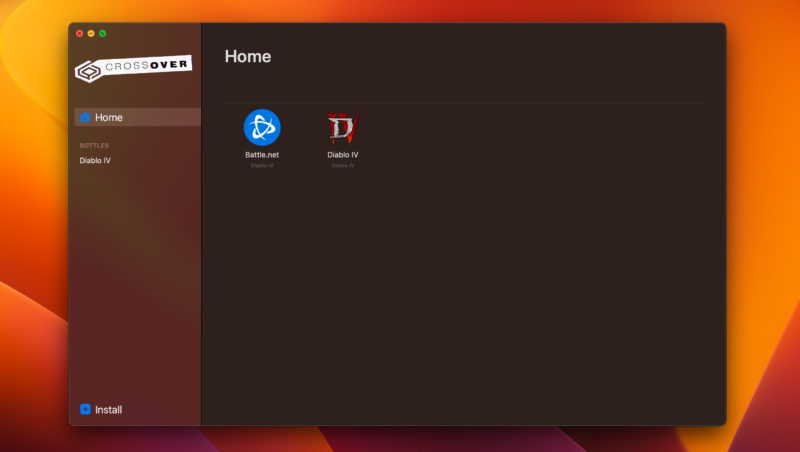 Codeweavers took to its official forums today to announce the release of CrossOver 23.0.0, the new version of its software that aims to make emulating Windows software and games easier on macOS, Linux, and ChromeOS systems.
CrossOver 23 has updated to Wine 8.0.1, and it's loaded with improvements across all its platforms. The most notable, though, is the addition of DirectX 12 support under macOS via VKD3D and MoltenVK. This marks the first time most Mac users have had access to software that relies on DirectX 12; previously, only DirectX 11 was supported, and that went for other software solutions like Parallels, too.
This new release adds "initial support" for geometry shaders and transforms feedback on macOS Ventura. Codeweavers claims that will address a lot of problems with "missing graphics or black screens in-game" in titles like MechWarrior 5: Mercenaries, Street Fighter V, Tekken 7, and Octopath Traveler.
All that said, steer clear if you're running the macOS Sonoma beta; the forum post says that while CrossOver 23 technically runs in Sonoma, "there are definitely known issues." It's worth mentioning that the public release of Sonoma later this year will include new tools for porting games to the Mac that could make additional apps like CrossOver unnecessary in some specific instances.
On the Linux side, Codeweavers said it resolved the Xwayland bug, leading to better performance for applications like those in the Microsoft 365 suite. The EA desktop app now works on macOS and Linux, too.
Those are the major improvements in compatibility, but there are a plethora of bug fixes that affect a wide range of apps like Quicken or Steam. Codeweavers says there are more than 5,000 changes in this update. You can now uninstall applications much more easily in the CrossOver GUI, too.
These updates are available to existing users who have active entitlements to the software and to new users who want to fork out $74 to get some Windows applications and games running in emulation on their machines.
Testing it out
The forum post notes that Diablo II Resurrected and Diablo IV work on macOS Ventura with DirectX 12. Before writing this article, I briefly tested Diablo IV via CrossOver 23 on an M1 Max-equipped MacBook Pro and found that it worked on medium to high settings at 1080p with some stuttering.
I got Diablo IV running OK-ish on an M1 Max Mac without too much hassle.


Samuel Axon

Installation was pretty straightforward; just know you're going to have to click "yes" a whole bunch of times to install a plethora of fonts.


Samuel Axon

The game was running at 1080p resolution. It defaulted to Ultra settings, but the framerate was iffy at times, so I tried lowering them. That fixed the framerate issues, but stuttering was still a problem. It might be something you could solve with more time. We'll see.


Samuel Axon
The stuttering makes it far from optimal, but it is mostly playable. Reducing the graphics setting didn't do much to alleviate the stuttering, unfortunately. Still, that's better than nothing, given that Diablo III fans (including none other than Whoopi Goldberg) have been vocal in their disappointment that Diablo IV didn't make its way to Mac as its predecessor did.
It's also possible that investing some time in tweaking could alleviate the problem; running games well in CrossOver often involves at least a bit of legwork.