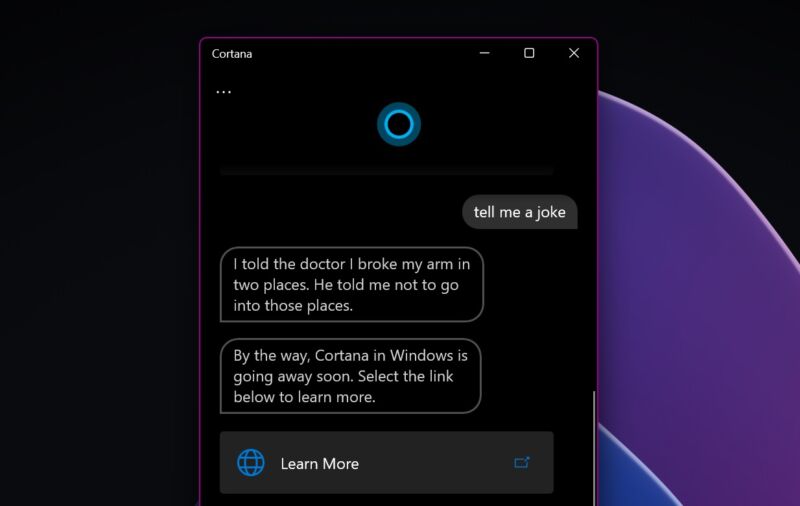 Microsoft is working to cram its new ChatGPT-powered Bing Chat service into every product it makes, and starting this fall it will be a built-in feature of Windows 11. It makes sense, then, that Microsoft is also working to shut down its last stab at an automated virtual assistant—the standalone Cortana app in Windows 10 and Windows 11 is going to stop working this month, and Microsoft is pointing users toward Bing Chat and Windows Copilot instead.
Some users have reported that the Cortana app has already stopped working entirely following an app update. On a PC running a fully up-to-date version of Windows 11 22H2, my Cortana app still functions, but it told me that "Cortana in Windows is going away soon."
Microsoft has been pulling back on its support for Cortana for years, ending support for the iOS and Android versions in early 2021 and removing it from the Windows taskbar in Windows 11 a few months later. Before that, Microsoft had already removed most third-party app integrations, refocusing the assistant entirely on basic productivity tasks and Bing searches.
Cortana began life on Microsoft's ill-fated Windows Phone platform in the early 2010s, where it served the same general function as Apple's Siri and Google Now (and, later, the Google Assistant): a hands-free way to interact with your phone that also attempted to predict what you'd need next, all filtered through a "cute" "personality."
Cortana came to the desktop with Windows 10 in 2015, and to Android and iOS a few months after that. By 2019, the voice assistant was already being gradually deprioritized in new Windows 10 builds.
In addition to Windows Copilot, Microsoft says that people who rely on Cortana in Windows should also consider using the "voice access" accessibility feature in Windows 11, which supports speech-to-text capabilities and limited window management even if your computer doesn't have an active Internet connection.
For now, Microsoft says that Cortana will still be included in Microsoft Outlook and Microsoft Teams. Those versions of Cortana are also likely to be swept away by new AI-driven versions, eventually. Before too long, it may only be possible to hear Cortana in its original form: as an AI helper in the Halo franchise.
Listing image by Cortana