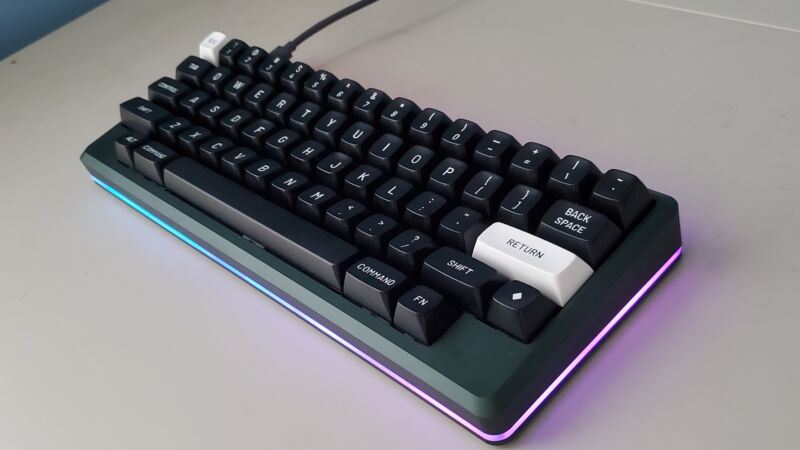 Corsair is acquiring Drop, the companies announced today. Corsair is already the parent company of other gaming peripherals and PC brands it previously acquired, including Elgato and Origin PC. The latest acquisition adds a brand that's well-known among mechanical keyboard builders to the company's catalog.
Drop used to be called Massdrop and was founded in 2011. Based in California (like its soon-to-be parent company), its bread and butter has traditionally been parts for DIY mechanical keyboard enthusiasts, including bare-bone kits and premium keycaps. However, the company's selection has expanded to prebuilt mechanical keyboards, including some high-end, supremely expensive ones. The company also sells more mainstream-friendly keyboard parts, like Lord of the Rings prebuilt keyboards and keycaps, and other PC peripherals, like headphones and desk mats. Beyond Drop products, the site also sells other enthusiast-brand products.
Today, we learned that Corsair reached an agreement to buy Drop but didn't learn of the terms of the "non-material, all-cash transactions." Once the deal closes, people can still shop on Drop's website, and Drop will be a separate brand within Corsair. Drop warranties and customer support will still be handled by Drop, for example. However, Corsair "will be able to offer specialized Corsair and Elgato products to the enthusiast community that Drop is engaged with," Corsair CEO Andy Paul said in a statement. The stated parameters are similar to how brands Corsair has acquired—Elgato, Origin PC, and Scuf—operate.
A spokesperson for Drop wouldn't comment to Ars on future products or if Corsair ownership will push the company to more prebuilt designs. However, the company's representative noted that Drop has already expanded its prebuilt keyboard selection and will "continue to design and offer barebones platforms for the community to customize as they see fit."
Keyboard customization on Corsair's end currently maxes out at RGB lighting and, if you're lucky, swappable keycaps or hot-swappable switches. A Corsair spokesperson told Ars that the company will "explore wider opportunities for selling Drop products via the Corsair global sales channel." They also pointed to opportunities for "Drop to help Corsair offer keyboards with greater levels of customization."
Drop's acquisition isn't the first sign we've seen lately of DIY keyboards gaining more mainstream attention. With more people working at home, keyboard tactility and comfort gained greater focus among workers during the COVID-19 pandemic.
Some mainstream tech retailers have embraced the category lately. Best Buy, for example, started selling barebones keyboard kits, keyboard top plates, mechanical switches, and other mechanical keyboard parts from Glorious earlier this year. And over the past few years, we've seen companies traditionally focused on prebuilt keyboards offer more customization options, like spare keycaps or lube kits in the box or more hot-swappable switch options.