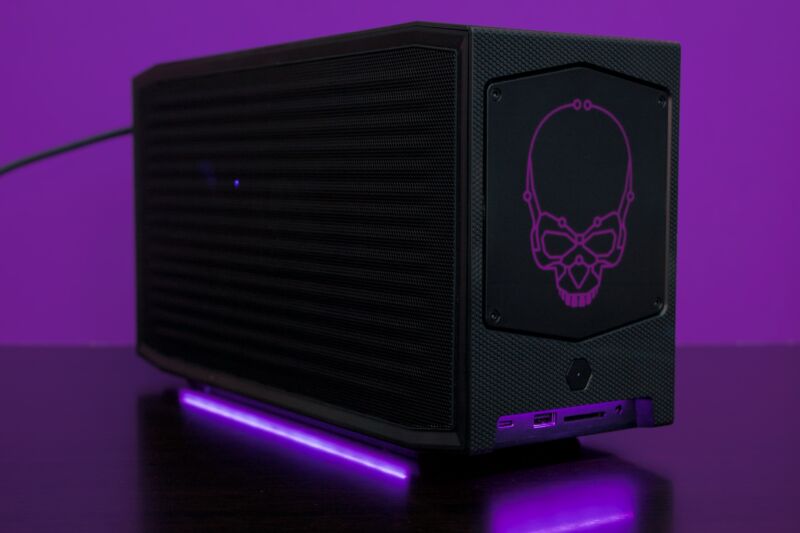 When Intel announced that it was discontinuing its line of NUC mini PCs earlier this month, the company's statement left the door open for future development; Intel was stopping "direct investment" and would rely on "ecosystem partners to continue NUC innovation and growth." Now one specific ecosystem partner is picking up where Intel left off—the company announced today that PC manufacturer Asus will be taking over the NUC lineup going forward.
Asus is being granted a "non-exclusive license" to Intel's NUC designs, which leaves the door open to other companies being granted a license as well. Intel also says Asus will "manufacture, sell, and support" current NUC systems using 10th, 11th, 12th, and 13th-generation Intel processors.
We've reached out to Intel to see whether this means that current NUC owners should contact Asus for warranty, driver, and BIOS support going forward. It sounds like Intel will continue to handle warranty support for now, though this may change by the end of the three-year warranty period that covers most NUCs.
"Intel stands behind Intel NUC products and will enable continued warranty and technical support for Intel NUCs," Intel spokesperson Brent Camara told Ars. "Existing support processes will continue to apply for the time being. When this changes, Intel will notify its customers and distributors."
We're still waiting for an answer on driver and BIOS support, and we'll update if we receive a response.
Asus already sells its own line of NUC-like mini desktops, and it has also dabbled in compact gaming desktops, sort of like Intel's higher-end NUC towers. The company should be well-positioned to continue development on all the various NUC form factors, though it's not clear whether NUC-branded designs will totally replace Asus' own designs or if the company will continue to develop, sell, and support two totally different mini-desktop lineups.
Next-generation NUCs could bring major improvements to the lineup, assuming they use Intel's next-generation Meteor Lake processors (the small NUCs generally use laptop processors). Meteor Lake will be the first Intel CPU not manufactured entirely by Intel itself, instead using a mix of chiplet "tiles" from Intel and TSMC. One of those tiles will be an updated GPU that uses the same architecture as Intel's Arc GPUs, which should boost performance (the current Intel Xe GPU hasn't changed much in three generations) and add new capabilities like hardware-accelerated AV1 video encoding.