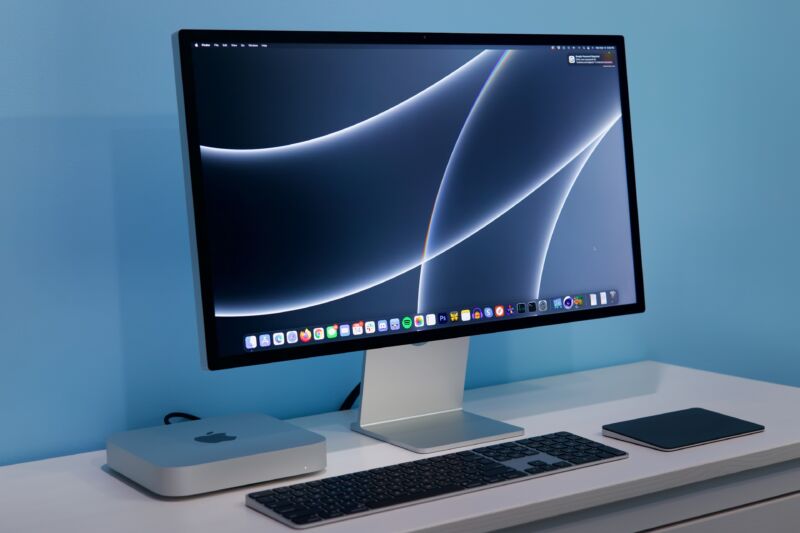 In the subscribers-only section of his weekly newsletter, Bloomberg reporter Mark Gurman (who has reported accurately on new Apple hardware in the past) claims that Apple will introduce an external Mac monitor that can act as a smart home display when a Mac goes to sleep or is shut down.
The feature would be available on at least one monitor in an upcoming lineup that will likely include successors to Apple's Pro Display XDR and Studio Display. The newsletter didn't go into much detail about the upcoming displays beyond the smart home feature.
Like the Studio Display, a new monitor with smart home capabilities would run on a chip first seen in the iPhone. The Studio Display contains Apple's A13 chip—the same seen in the iPhone 11 line of smartphones. The upcoming smart display could potentially run on the A16 seen in the iPhone 14 Pro, since that device introduced a similar always-on display feature to Apple's smartphone lineup.
The iPhone 14 Pro's always-on display currently shows what you'd see if you tapped your iPhone to see the lock screen: the time, wallpaper, and app widgets—albeit at a very dim brightness. Later this year, Apple will launch iOS 17 alongside the upcoming iPhone 15. iOS 17 will introduce a new smart display mode for the iPhone that makes that always-on display mimic the features and information you'd see on a Google or Amazon smart display, a product category that was all the rage at CES a couple of years ago but that has not exactly become ubiquitous.
It's fair to expect the Mac monitor's smart display to work a bit like that iOS 17 feature. But while iOS 17 is slated to launch this fall, Gurman predicts that the new Mac display won't hit the market until next year at the earliest.
Gurman's newsletter also covers upcoming changes to AirPods at length. Most notably, it claims that Apple will switch the AirPods charging case from the company's proprietary Lightning port to USB-C alongside a similar switch for the iPhone 15 this fall. Apple also plans to introduce new health features for AirPods, like software that helps you test whether you have hearing loss in new ways. The health features "are likely several months or even years away."