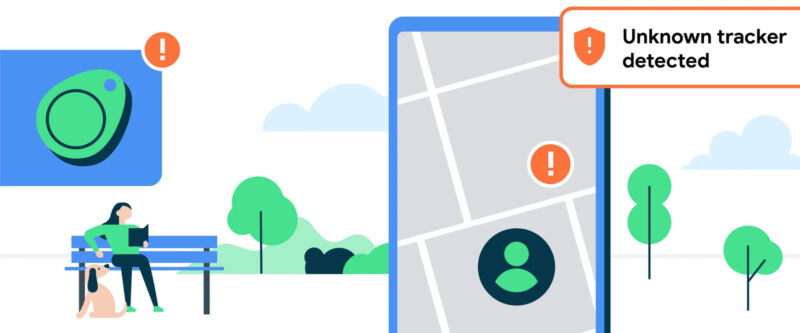 When Google announced that trackers would be able to tie in to its 3 billion-device Bluetooth tracking network at its Google I/O 2023 conference, it also said that it would make it easier for people to avoid being tracked by trackers they don't know about, like Apple AirTags.
Now Android users will soon get these "Unknown Tracker Alerts." Based on the joint specification developed by Google and Apple, and incorporating feedback from tracker-makers like Tile and Chipolo, the alerts currently work only with AirTags, but Google says it will work with tag manufacturers to expand its coverage.
For now, if an AirTag you don't own "is separated from its owner and determined to be traveling with you," a notification will tell you this and that "the owner of the tracker can see its location." Tapping the notification brings up a map tracing back to where it was first seen traveling with you. Google notes that this location data "is always encrypted and never shared with Google."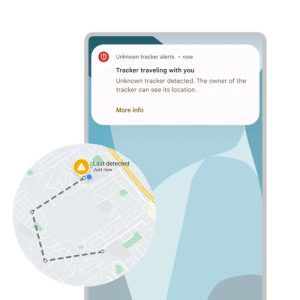 Further into the prompts, you can make the tracker play a sound, "without the owner of the tracker knowing," Google says. If you bring the tracker to the back of your phone (presumably within NFC range), some trackers may provide their serial number and information about their owner, "like the last four digits of their phone number." Google indicates it will also link to information about how to physically disable a tracker.
Finally, Google offers a manual scan feature if you're suspicious that your Android phone isn't catching a tracker or want to see what's nearby. The alerts are rolling out through a Google Play services update to devices on Android 6.0 and above over the coming weeks.
How does this relate to Google's planned expansion of its Find My Device network, which would allow everyone holding the world's most popular smartphone OS to take part in global scavenger hunts for trackers? Google is glad you asked. Because user safety and tracking prevention are "a top priority for Android," Google is working to finish the joint tracking specification "by the end of this year."
And so: "At this time, we've made the decision to hold the rollout of the Find My Device network until Apple has implemented protections for iOS."
As noted previously, while both iPhones and Android phones offer gigantic economies of scale for someone wandering within Bluetooth range of your device, you'll have to pick which side of the duopoly to pin your hopes on. While Apple and Google work together on avoiding malicious use of their tracking networks—which involves knowing what each other's tracker signals look like—their devices won't be able to work across the OS divide. That leaves companies like Chipolo and Tile having to make different versions of each device for the two companies' networks.