The Nubia RedMagic 8S+

Here's a look at the cooling system. A fan pulls air out of that cooling plate and ejects it out the side. The Snapdragon SoC is on the right side of the fan, and a larger graphite (?) sheet connects the heatsink to the battery.


Nubia

Sorry this isn't in English, but the takeaway here is that the clear back panel is totally fake, and you can make out the frame and a lot of cooling layers.

I love this image, which calls out exact millimeter measurements for the bezel on each side of the screen. Now you're speaking my language.


Nubia

There are touch-sensitive shoulder buttons along the top in landscape mode, but wow, does that look uncomfortable with those tall corners.

This hand graphic is rough. Is that left index finger just clipping through the phone corner to reach the shoulder button?

The very big spec options.


Nubia
Android manufacturers tend to love big spec sheets, even if those giant numbers won't do much for day-to-day phone usage. In that vein, we've got the new high-water mark for ridiculous amounts of memory in a phone. The new Nubia RedMagic 8S Pro+ is an Android gaming phone with an option for 24GB of RAM.
The base model of the RedMagic 8S Pro+ starts with 16GB of RAM, but GSMArena has pictures and details of the upgraded 24GB SKU, which is the most amount of memory ever in an Android phone. Because we're all about big numbers, it also comes with 1TB of storage. Keep in mind a 13-inch top-spec M2 MacBook Pro has 24GB of RAM and 2TB of storage, and that's a desktop OS with real multitasking, so Nubia is really pushing it. This suped-up 24GB version of the phone appears to be a China-exclusive, with the price at CNY 7,499 (about $1,034), which is a lot for a phone in China.
You definitely want an adequate amount of RAM in an Android phone. All these apps are designed around cheap phones, though, and with Android's aggressive background app management, there's usually not much of a chance to use a ton of RAM. Theoretically, a phone like this would let you multitask better, since apps could stay in memory longer, and you wouldn't have to start them back up when switching tasks. Most people aren't quickly switching through that many apps, though, and some heavy apps, games especially, will just automatically turn off a few seconds once they're in the background.
Other specs include a new "Snapdragon 8+ Gen 2" variant, which appears to be the same higher-clocked version that Samsung gets for the S23. This runs at 3.36 GHz as opposed to the normal 3.2 GHz. There's a 6.8-inch, 120 Hz  2480×1116 OLED display and a 5000 mAh battery with a blazing-fast 165 W charging that can fully charge in 14 minutes. The display has an under-screen front camera, because selfies would just get in the way of gaming.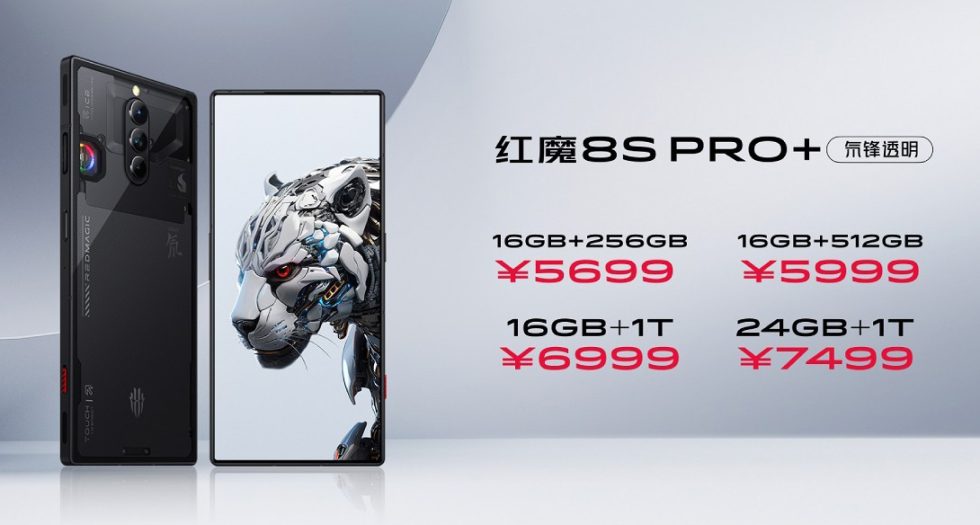 The design is interesting—it's just all right angles without a single smoothed-over edge on the entire phone. The sides are flat, the back is flat, and the corners are super tall, with almost no corner radius at all. In landscape mode, there are touch-sensitive shoulder buttons along the top edge for additional gaming controls, but it does not look comfortable to have to wrap your fingers around those hard corners. Just picture the smooth curves of an SNES controller compared to this thing—even the example image does not look very comfortable.
For color options, it comes in black, silver, or a clear back panel with a faux-mechanical design under it, just like a Nothing Phone. That little rainbow circle on the back is a spinning, 20,000 RPM blower fan that pushes heat out the side, so you'll presumably be gaming with cool temps for a long time.
The phone is up for pre-order today in China and ships on July 11.