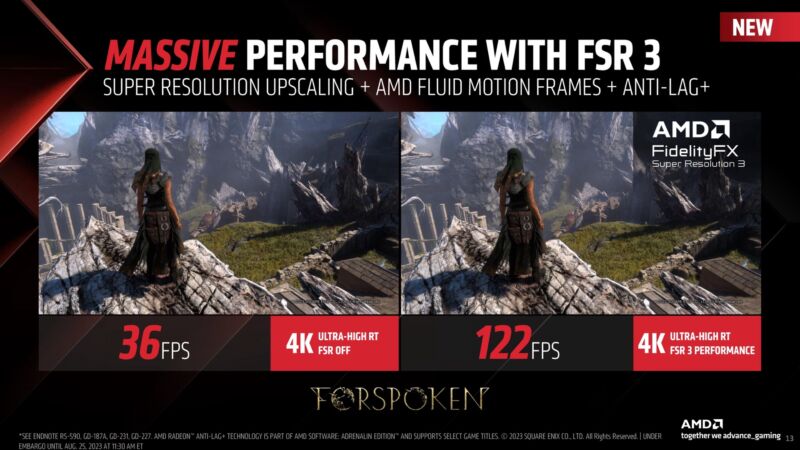 Even if you're not interested in buying one of the new Radeon graphics cards AMD announced today, the company still has some software-related announcements of interest to anyone who plays games on their PC. And that includes not just owners of older AMD GPUs but people who use Nvidia GeForce or Intel Arc cards, too.
First, AMD is finally ready to reveal more details about FidelityFX Super Resolution version 3, the latest major update to the company's open source upsampling technology. A competitor to Nvidia's proprietary Deep Learning Super Sampling (DLSS) and Intel's GPU-agnostic but nascent XeSS, all of these technologies attempt to generate a high-resolution image by rendering a lower-resolution image, blowing it up and filling in the gaps algorithmically to approximate what a natively rendered image would have looked like.
What GPUs support FSR 3?
Last year, FSR 2.0 went a long way toward making the technology more competitive with DLSS while also working on a wider range of graphics hardware from AMD, Nvidia, and Intel. Contrary to some prior speculation, FSR 3 will continue to support a wide range of old and new GPUs from all three major GPU companies. AMD has confirmed to us that the following graphics hardware should all support FSR 3:
Radeon RX 5000, 6000, and 7000 series. AMD "recommends" running it on a 6000- or 7000-series GPU, mostly because faster cards will give you a better experience.
Intel Arc GPUs and, presumably, upcoming integrated GPUs with similar feature sets.
All Nvidia RTX-series GPUs, including the RTX 20, 30, and 40-series.
Unspecified game consoles (likely the PlayStation 5 and Xbox Series X/S).
This leaves out many GPUs that earlier versions of FSR support, like AMD's Vega dedicated and integrated GPUs, Intel's Iris Xe integrated GPUs, and older Nvidia GTX-series GPUs. But it's more generous than Nvidia's cutoff for DLSS 3, which requires a brand-new RTX 40-series card to run.
What does FSR 3 do?
While Nvidia's DLSS and Intel's XeSS rely on machine learning (referred to as AI more recently, mostly for trendiness) hardware to generate the interpolated pixels and frames, AMD Director of Product Marketing Jay Marsden says FSR 3's hardware-agnostic approach "does not use or require any kind of machine learning hardware to run." Instead, AMD says FSR 3 uses "motion vector data" from games being played to help generate its interpolated pixels.
The flagship feature of FSR 3 is something AMD calls "Fluid Motion Frames," a name borrowed from a similar feature that doubles the frame rate for video playback. Instead of simply filling in the gaps in a rendered image, FSR 3 can also look at the differences between rendered frames and generate entirely new frames to fit between them, effectively doubling your frame rate without doubling the amount of GPU rendering power you need.
Nvidia has been doing this kind of thing for a year or so already with its DLSS Frame Generation technology, and many of its benefits and shortcomings will likely be shared with FSR 3. When your GPU is already pushing out a fairly high frame rate, it's easier for the algorithm to generate good-looking and non-distracting interpolated images because it has a lot of data to work with. When a game is running less quickly, the algorithm has to guess more, and especially with objects that move relatively quickly and randomly (think grass waving in a field or a driving rainstorm), the algorithm will often guess incorrectly.