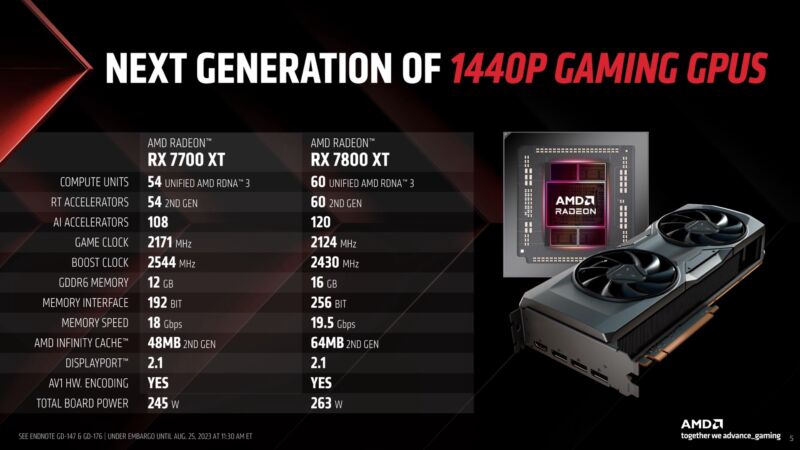 AMD has been slower than Nvidia to fill out its next-generation GPU lineup, and for months there has been a huge gap between the Radeon RX 7900 XT (currently retailing between $750 and $850) and the Radeon RX 7600 (holding steady at $270ish). Today, the company is finally filling in that gap with the new Radeon RX 7800 XT and RX 7700 XT, both advertised as 1440p graphics cards and available starting at $449 and $499, respectively. Both cards will be available on September 6. And most Radeon RX 6000 and RX 7000 GPUs sold between now and September 30 will come with a free copy of Bethesda's upcoming "Skyrim in space" title, Starfield.
AMD kept the prices of both cards under wraps while pre-briefing members of the press about the announcement, which is unusual but not hard to explain. AMD's RX 7600 launch was spoiled a bit by Nvidia, which pre-empted the 7600's announcement by offering a more powerful GeForce RTX 4060 at the same $299 price that AMD had planned for the 7600. This prompted AMD to cut the 7600's price to $269 before it was even announced; we'll have to wait and see if Nvidia chooses to change its prices in response to the new Radeon cards' launch.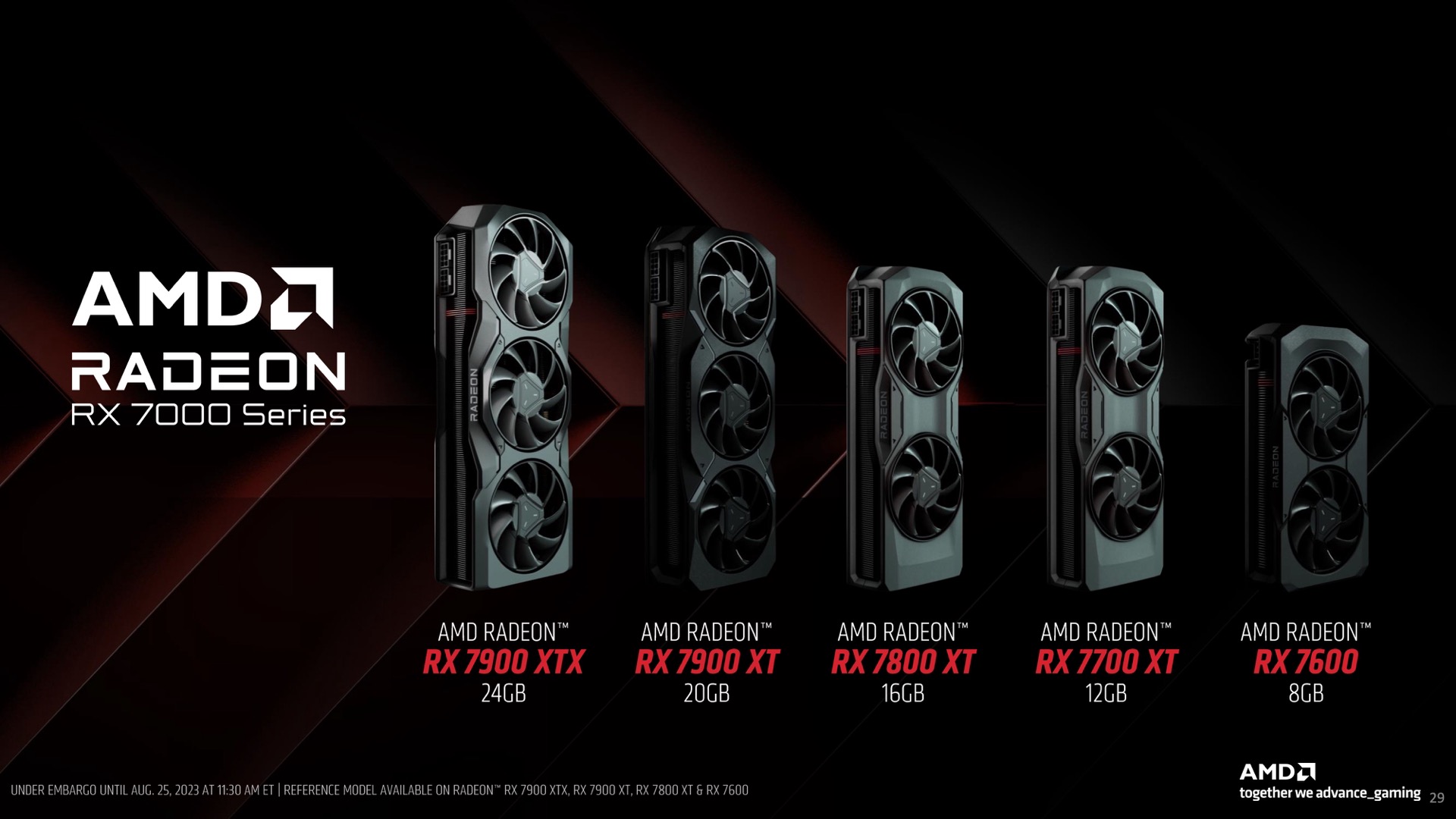 The RX 7700 XT and 7800 XT are based on the same RDNA 3 graphics architecture as the other 7000-series GPUs, which means a more efficient manufacturing process than the RX 6000 series, DisplayPort 2.1 support, and hardware acceleration for encoding with the AV1 video codec, which promises game streamers either higher-quality video at the same bitrate as older codecs or the same quality with a lower bitrate. AMD compared the 7800 XT and 7700 XT favorably to Nvidia's $600 upper-midrange RTX 4070 and the $500 16GB version of the RTX 4060 Ti.
The new Radeon cards also support FidelityFX Super Resolution (FSR) version 3, a new version of AMD's GPU-agnostic AI upscaling technology that also promises extra AI-generated frames à la Nvidia's proprietary DLSS 3 and DLSS Frame Generation feature. But unlike Nvidia, AMD isn't restricting FSR 3 to its latest cards, and users of RX 6000-series cards plus recent Nvidia GeForce and Intel Arc cards will be able to benefit, too, at least when games start supporting it. You can read more about FSR 3 and AMD's other software announcements here.